When going on
vacation, a wise trick is to not have access to your work email. This way, you
won't be stressed out thinking about too many work-related stuff.
The problem? Not
having email access might cause you to miss something important.
What if your opinion is needed in order to proceed with a big sale? What if a client desperately needs you?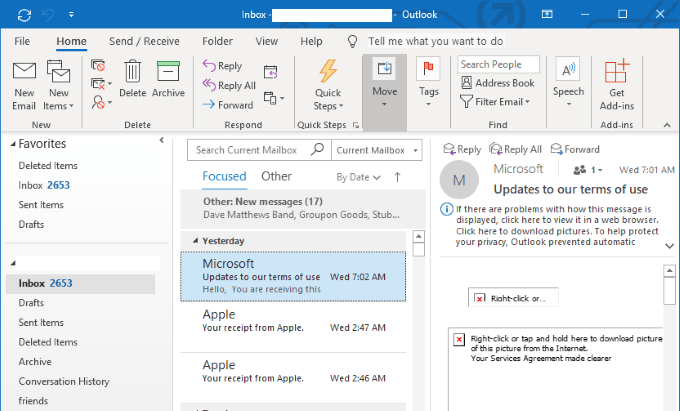 The workaround is
to set up email forwarding in Microsoft
Outlook. By configuring auto-forwarding, you can be at ease knowing that
all mails sent to your work email account will be automatically forwarded to
another email address.
In this post,
we'll walk through the process on how to automatically forward email in Outlook
2019.
For Windows
Go to File.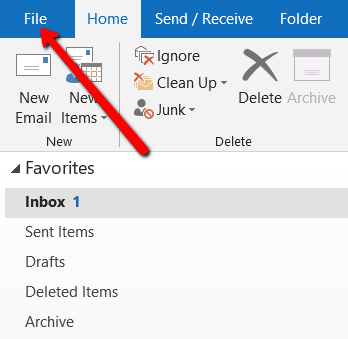 Select Rules and Alerts.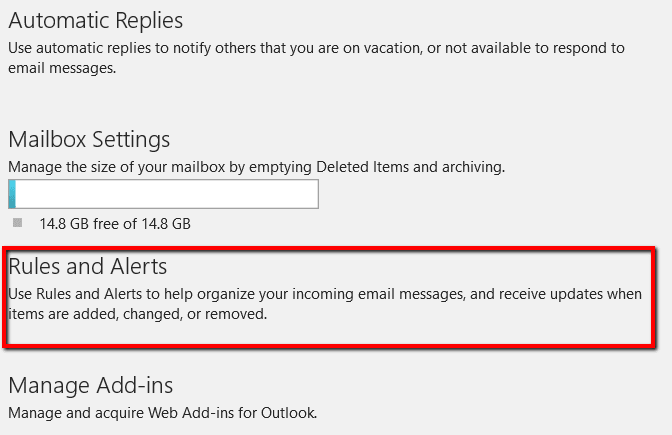 In the pop-up
window, select the Email Rules tab
and make New Rule.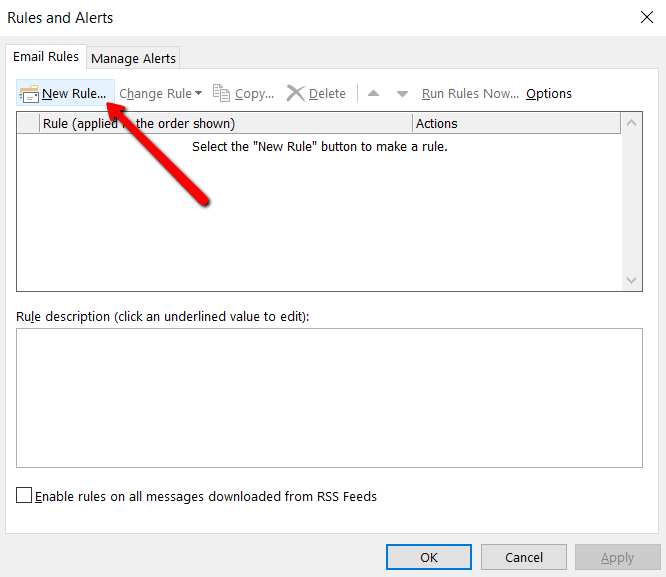 Then a Rules Wizard will appear.
The first step is
to select a template. So go to the Start
from a blank rule section and select Apply
rule on messages I receive.
Under Step 2,
make sure the rule description says Apply
this rule after the message arrives and hit Next.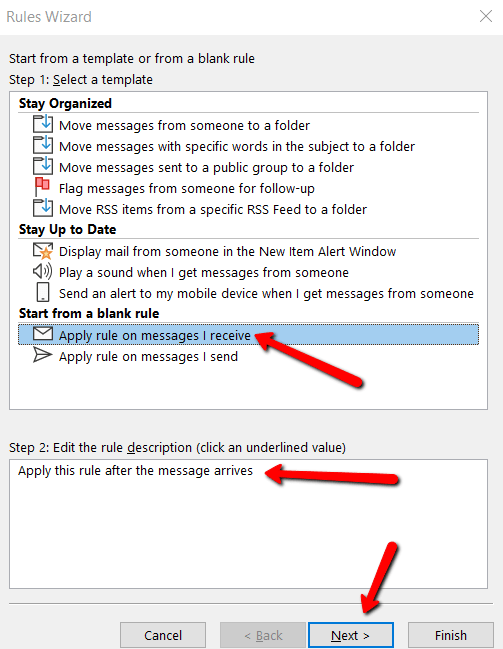 Then you will be
prompted to select the conditions for the messages that get forwarded. As to
the specific conditions you select, it's totally up to you.
But if you want all of your messages to be diverted to
another email address, you should leave every condition unchecked.
Under Step 2,
make sure the field also says Apply this
rule after the message arrives. Then hit Next.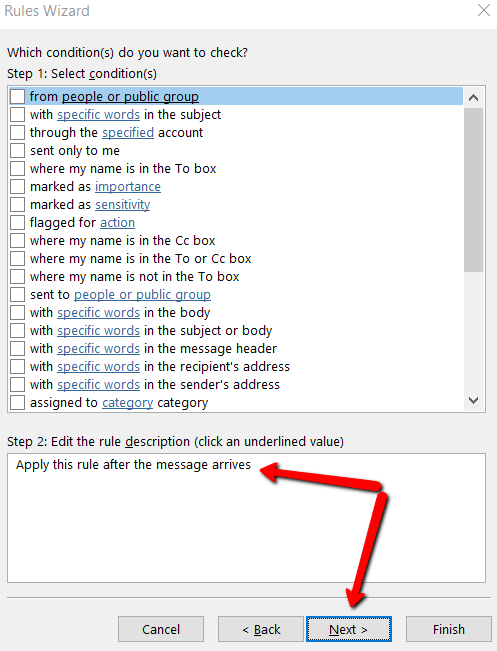 You will receive
a message that says: This rule will be
applied to every message you receive. Is this correct? Select Yes.

Next, you will be
asked what you want to do with the message. Tick the box that says to forward it to people or public group.
Under Step 2,
make sure it also says to forward it to
people or public group. Then click the underlined portion of this text.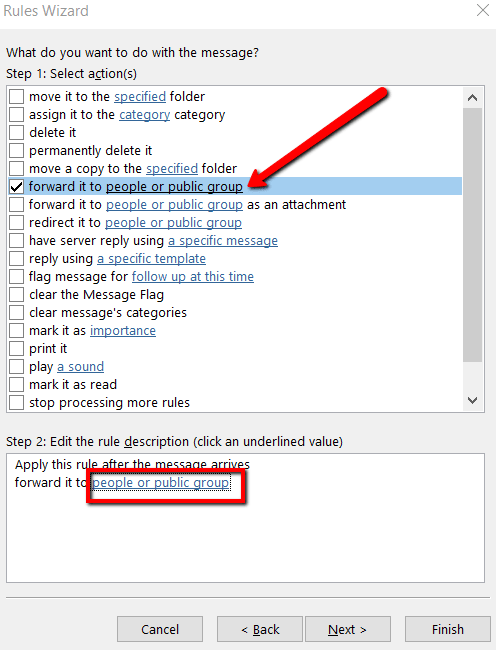 This will open a Rule Address window. Here, you can
access an address book that you can easily select an email address as the
receiving of the auto-forwarded emails.
You can also type
the email address in the To section.
Once you specified an email address, hit Okay.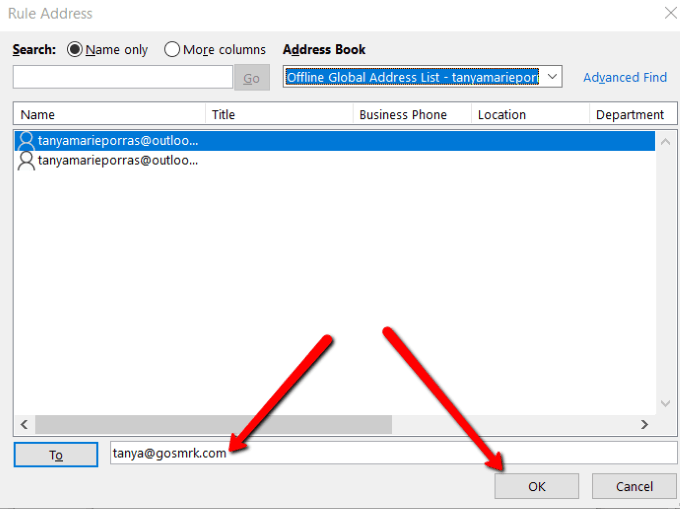 Once this window
closes, you will be redirected back to the Rules
Wizard. Now, hit Next.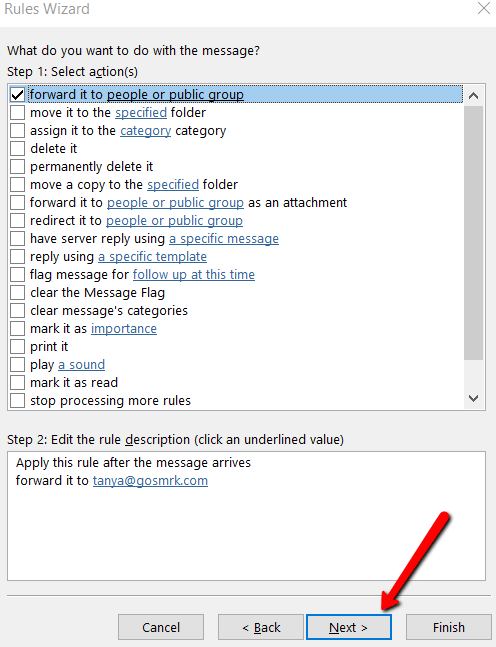 You will then be
prompted to set any exceptions. Like most users do, it's best to leave
everything unchecked.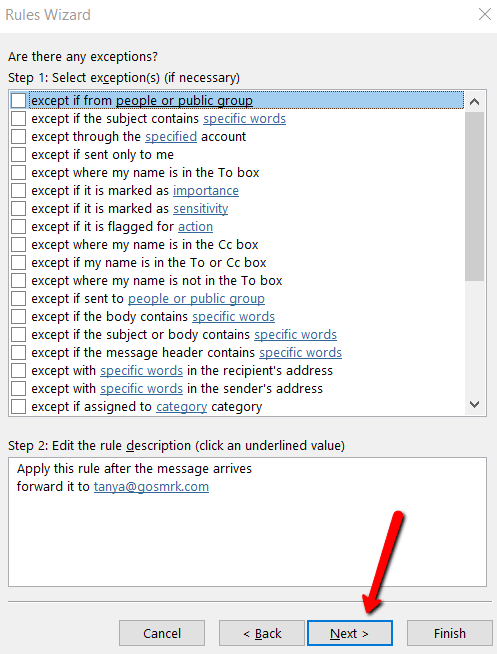 Finish up by
specifying a name for your rule. What you choose is your call. A tip is to make
it straightforward so you can recognize it easily.
Tick the box that
says Turn on this rule. Once you
review the rule description in Step 3, you're good to go. It's time to click Finish.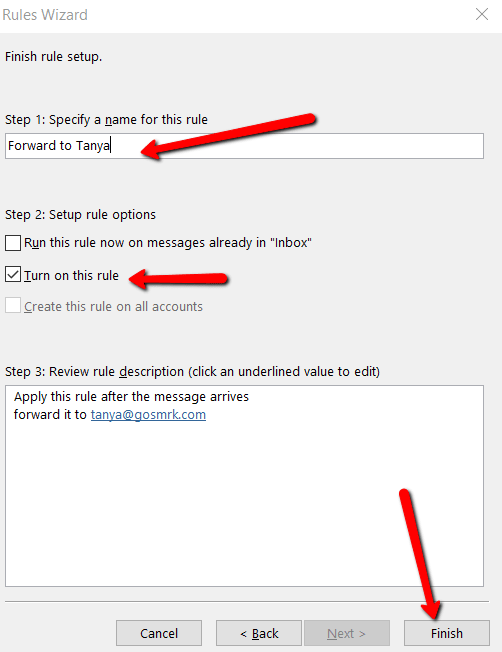 For Mac (OS)
If you're using a
Mac, you have nothing to worry about. After all, the concept of setting up
auto-forwarding is the same in Windows and Mac.
What you need to
do is go to Home. Then choose Rules and Edit Rules. Then select a client (IMAP, Exchange, Outgoing, or
POP3).
Next is to hit
the + sign. And finish up by
providing a name for rule and setting conditions.