Do you remember using Microsoft's Hotmail email service? Throughout the years, Microsoft has offered a variety of cloud email services that it has rebranded several times.
These rebrands become even more confusing when you follow Microsoft's transition from Microsoft Hotmail, to Live Mail, and finally to the Outlook web app.
MSN Hotmail – What Happened?
In 1996,
when web-based email services were just gaining popularity, Sabeer Bhatia and
Jack Smith launched the Hotmail web service. The only other major email service
at the time was America Online (AOL).
This was one
of the first cloud-based email services that let users sign-in to Hotmail
through a fully-functional web client they could use through their web browser.
In 1997,
Microsoft acquired Hotmail and rebranded it as MSN Hotmail.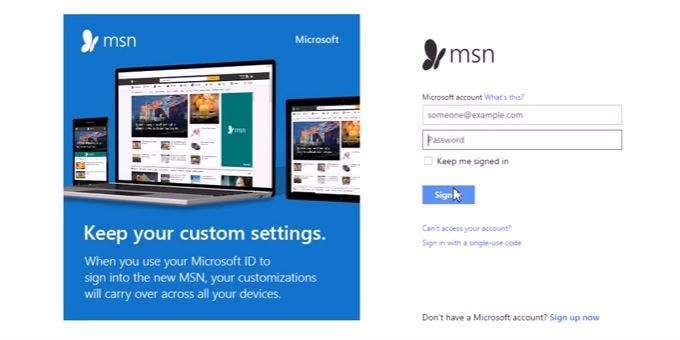 MSN Hotmail amassed a huge user base. Then, in 2005, Microsoft redesigned the entire webmail service, and rebranded it as one product in its Windows Live offering. It was referred to as Windows Live Hotmail.
The
transition for so many users took some time. Many users complained about the
changes. And for years, users continued searching on Google for their "Hotmail
login" page – confused by the dramatic design change to Windows Live.
To make
matters even more complicated, Microsoft discontinued Windows Live Hotmail
entirely (along with all of Windows Live) in 2012.
As for their
cloud-based webmail offering, Microsoft completely rebranded again with
Outlook.com.
Outlook.com vs. Outlook Desktop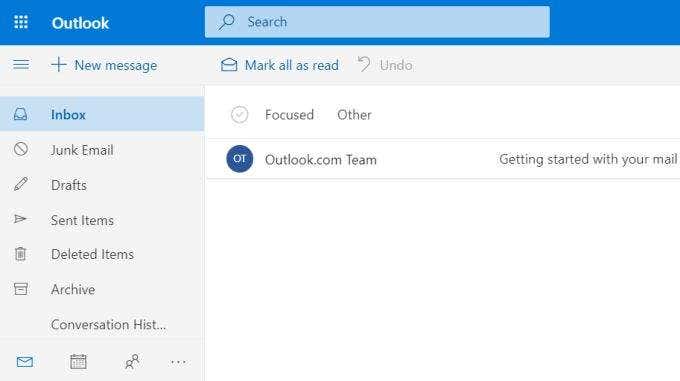 Frequently
referred to (incorrectly) by users as Outlook Online, Outlook.com was
Microsoft's final attempt to consolidate email services under its single brand
known as Outlook.
Unfortunately,
this became very confusing for users who were already well-accustomed to
Microsoft's desktop-based client, already known as Outlook.
Microsoft
tried to ease the transition by maintaining all the various email accounts
users had used throughout every generation of its products, including:
@hotmail.com
@live.com
@msn.com
@passport.com
When other
Microsoft users would receive emails from people with these accounts, they
assumed they could also create their own email accounts with the same service.
When they searched for the sign-in page for Hotmail or Microsoft Live, they
couldn't find those websites anymore.
Even today,
if you type "hotmail.com" or "live.com" into your web browser, you'll get
redirected to outlook.live.com,
which is the current Microsoft webmail service branded as Outlook.com.
Office 365 Webmail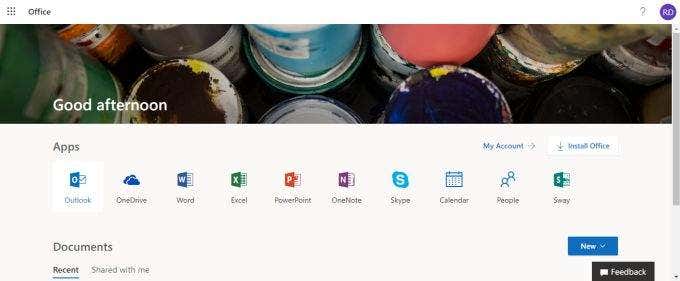 To make
matters even more complicated, in 2011 Microsoft launched a product known as
Office 365.
This product
was especially marketed to businesses looking for an easy way to provide
employees with all the Office products they need, under a simple enterprise
subscription plan.
The
confusion comes from the fact that in 2015, Microsoft combined desktop office
products as well as its collection of web apps under the common brand umbrella
Office 365. These web apps included the Outlook Mail web app.
If you were
to go to Outlook.com and sign up for just a web-based email account with
Microsoft, you'll see the same exact web client interface as you'll see if you
sign up for an Office 365 subscription and use the Outlook Mail web app.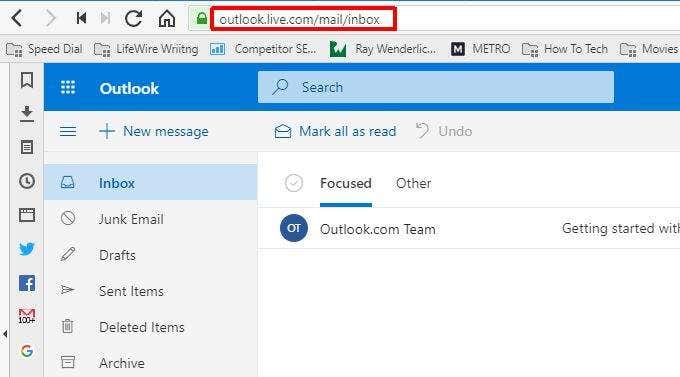 In fact, if
you sign in under the same Microsoft account, you'll see the same exact email
inbox.
This is
because ultimately the web-based email service handling the incoming and
outgoing emails is Outlook.com, while the web app itself is known as Outlook
Mail, accessed via Office 365 or simply by visiting outlook.com.
In either
case, the final URL you'll find yourself on is outlook.live.com.
Reading Email from Your Outlook.com Account with Outlook
If you find
this all confusing, you aren't alone.
Thankfully,
there's one way to keep everything sorted, by just using your Outlook desktop
client to pull in all emails that arrive in your Outlook.com account.
You can do
this by enabling POP access on your Outlook.com account, and then connecting
your Outlook desktop client to pull emails from that service.
Set up Outlook.com to Allow POP Connections
Log into
your Outlook.com email account. Click on the gear icon near your profile picture to enter account settings. At
the bottom of the Quick settings panel, click on View all Outlook settings.
In the
navigation pane of this pop-up window, click on Sync email. Scroll down to the POP
and IMAP settings section.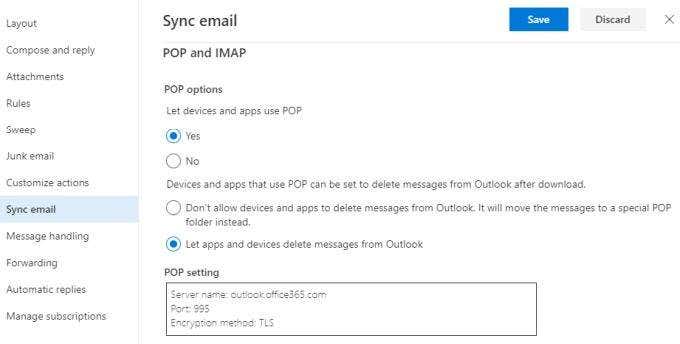 In this
window, adjust the following settings:
Set
Let devices and apps use POP to Yes.
Enable
Let apps and devices delete messages
from Outlook.
Make
note of the POP setting and SMT settings.
Click
Save to confirm changes.
Now your
Outlook.com account is configured to allow your Outlook desktop client to pull
emails from your web-based account.
Configure Outlook Desktop Client
Open Outlook
on your desktop PC.
If you're
prompted to log into your Microsoft account, click on Advanced Options, and select the checkbox next to Let me set up my account manually.
Then, click the Connect button.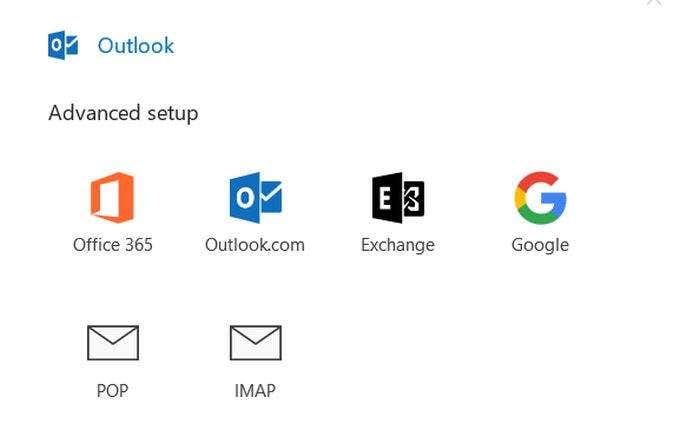 On the
pop-up window, choose POP from the connection list.
Note: Why not select Office 365 or Outlook.com? If you do this, you'll be
able to read emails from your online Outlook account, but you won't be able to
have your email client delete emails from that account.
Type the
password for your Outlook.com account and click Connect.
You'll see a
window where you need to enter POP Account Settings. Fill in the POP settings
for both POP and SMTP that you recorded when you enabled POP access above.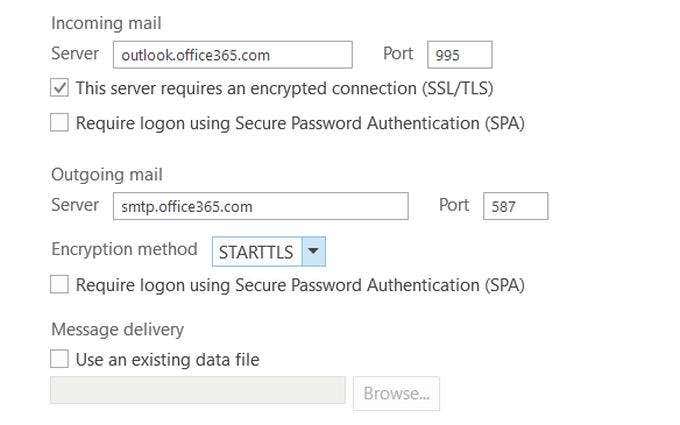 Click on Next to continue. Enter the password
for your Outlook.com account.
You should
see an Account successfully added
notification window. Click the Done
button to finish setup.
Outlook
desktop will open. When it refreshes next, you'll see your Outlook.com emails
arriving in the Inbox.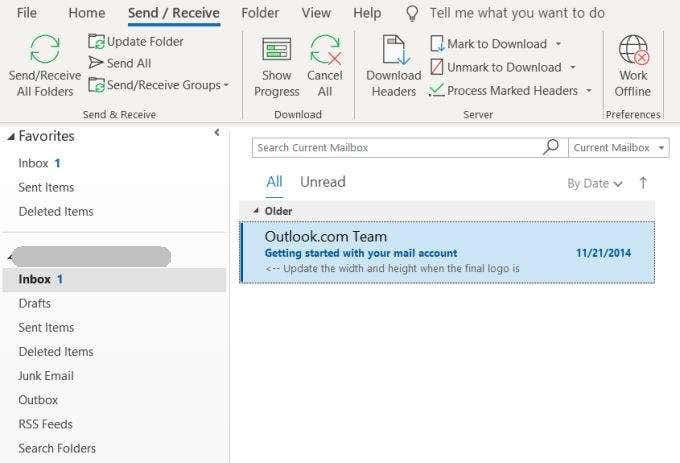 If you find
that the inbox isn't updating fast enough, you can make the frequency that
Outlook retrieves your emails more frequently.
To do this:
Click
the File menu
Click
Options
On
the pop-up Options window, click on Advanced
from the left pane
Scroll
down to the Send and receive section
and click Send/Receive
Under
the All Accounts section, change the
Schedule an automatic send/receive every
setting from 30 minutes to a shorter time interval
Transitioning to Outlook.com
If you're
one of the many users who still have a Hotmail.com or Live.com email address,
you can start to make the transition to using an Outlook.com email address by
adding an email alias to your account.
You can add
this new Outlook.com account as follows:
Clicking on your Profile picture and
clicking on View Account.
On the account page, click on Your info.
Click on Manage your sign-in email or phone number.
In the Account aliases section, click Add
email.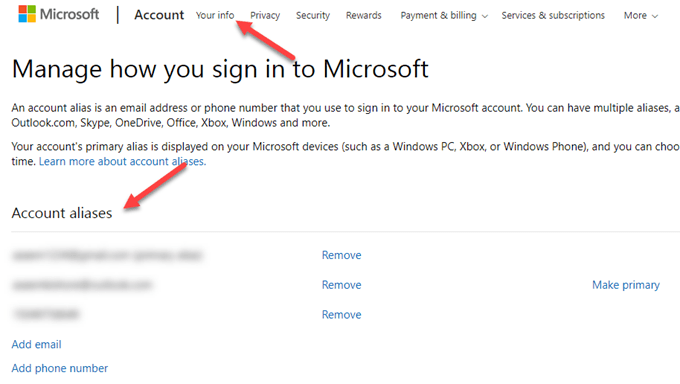 Here, you
can type an alias you'd like for your new outlook.com email and click Add alias to add the new email to your
account.
To make sure
emails get sent using this new alias:
Click on the Gear icon to enter your account settings.
Click on Options or View All Outlook Settings.
In the left pane, choose Mail, click Accounts, and select Connected Accounts. If this option isn't there, select Mail, then Sync Email.
Find the dropdown box to change the From address and choose your new Outlook.com email.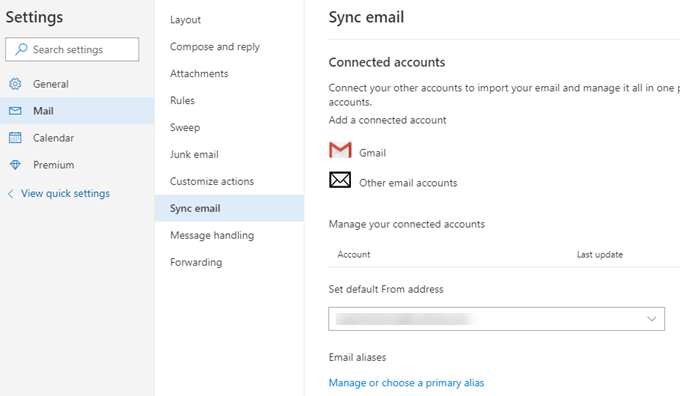 This will
change your default email from Hotmail.com or Live.com to your new Outlook.com
address. This small change will complete your migration to the same Microsoft
email account everyone else in the world is now using!