Sometimes I come across an app, a script, or an extension that does something pretty minor that most people — even myself, sometimes — won't have need for.
And… I kinda want to write about it.
Typically, I don't because the sort of comments those posts get puts me off.
Some folks assume that if I blog about something I'm somehow trying to suggest it's "the best" for a given task. That is rarely the case; I simply like to showcase choice, make people aware of alternatives, surface different ways of doing things, and so on.
But today I thought: ahh, whatever — I'm gonna go for it.
'App Hider' – Niche GNOME Extension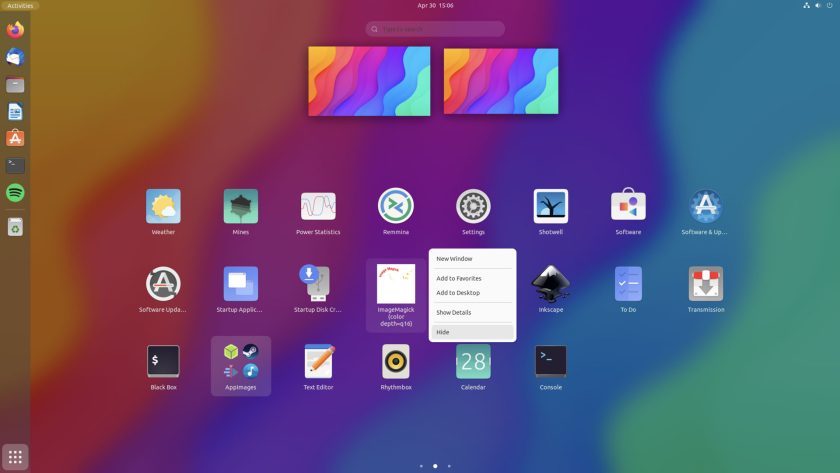 App Hider is a GNOME Shell extension that lets you hide any app shortcut that appears in the Applications grid by right-clicking on it, and selecting "Hide".
That's it
GNOME Shell already has an extension-free way of doing this – something iPhone users have been doing for years: hide things in app folders! That way you don't see it but it stays installed.
But maybe you're someone who doesn't like having app folders? Or you do, but you like them full of relevant stuff?
If so, this extension is for you.
I've no idea how I end up with Imagemagick and Xterm shortcuts in my Applications grid, but I do. Presumably these get installed as a by-product of something else (thus I don't want to uninstall them if another app needs them). However, I don't want to have to keep staring at them.
Before, I'd drag and drop these unwanted shortcuts into the "Utilities" app folder that Ubuntu (and upstream GNOME in general) offers by default. Out of sight, out of mind. But with this extension? I just right-click on the shortcut, select "hide", and bam—it's gone.
If you think App Hider GNOME extension might scratch an itch you have you can install it from the GNOME Extensions website (with via your browser or using the excellent Extension Manager app). App Hider supports GNOME 42 and above so you'll need to be using Ubuntu 22.04 LTS or later to use it.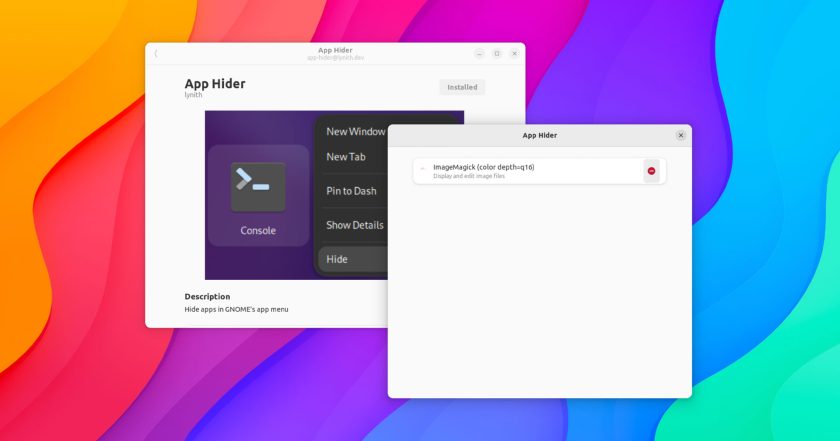 You will need to log out and back in after installing the extension for the "hide" option to appear in the Applications grid context menu; any shortcuts you hide using this extension re-appear when the extension is disabled. To un-hide a shortcut without disabling use App Hider's settings dialog.
Skim readers who scrolled to this part, allow me to reiterate: I'm not writing about this extension because I think it's the most important one ever created, Nor am I suggesting this is an extension everyone needs. It's a way of solving something (for which other solutions exist).