If you're looking to trick your GNOME Shell desktop out with a classy new taskbar extension that's low on system resources check out DashBar.
Admittedly GNOME Shell is not short of taskbar, panel, and dock extensions. A wide range of alternatives are available, from household names1 like Dash to Panel and Dash to Dock through to niche, nuanced offerings like BaBar Lite, and now DashBar.
DashBar has no preferences at all. That's its USP; it works how the way it works, and if that way isn't for you, use something else!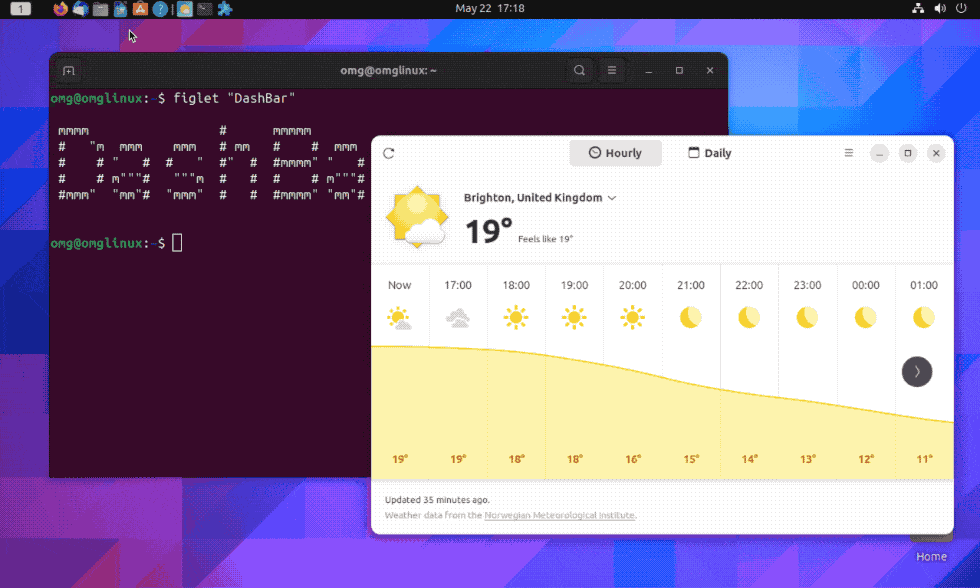 Lots of options are exciting but they add overhead. For some, that overhead (for features they won't use and flexibility they won't exercise) is too much. And it's for those folks whom the delightfully deft DashBar is aimed.
It's effectively an all-in-one task bar. It merges the Dash and a workspace switcher with GNOME Shell's Top Bar. It's thin, and some functionality is accessed through clicks rather than buttons.
For instance, left-click on the workspace number icon to open the GNOME Shell overview, and right-click on the same icon to open the applications grid. Additionally, you can click to toggle or cycle dash icons, right click anthem to access their app menu, and middle click on them to open new window.
Scroll on taskbar to change workspace
Dock items appear in top bar
Drag and drop to reorder pinned shortcuts
Removes 'Activities' button
Makes 'Places' extension label an icon (if installed)
And that's it.
Is BashBar for everyone? No, but it will be for someone — so if the idea of an all-in-one panel in GNOME Shell that's more minimally-minded than something like Dash to Panel, check it out. The extension supports GNOME 42 and above.
• Get DashBar on GNOME Extensions
1 In this house, anyway