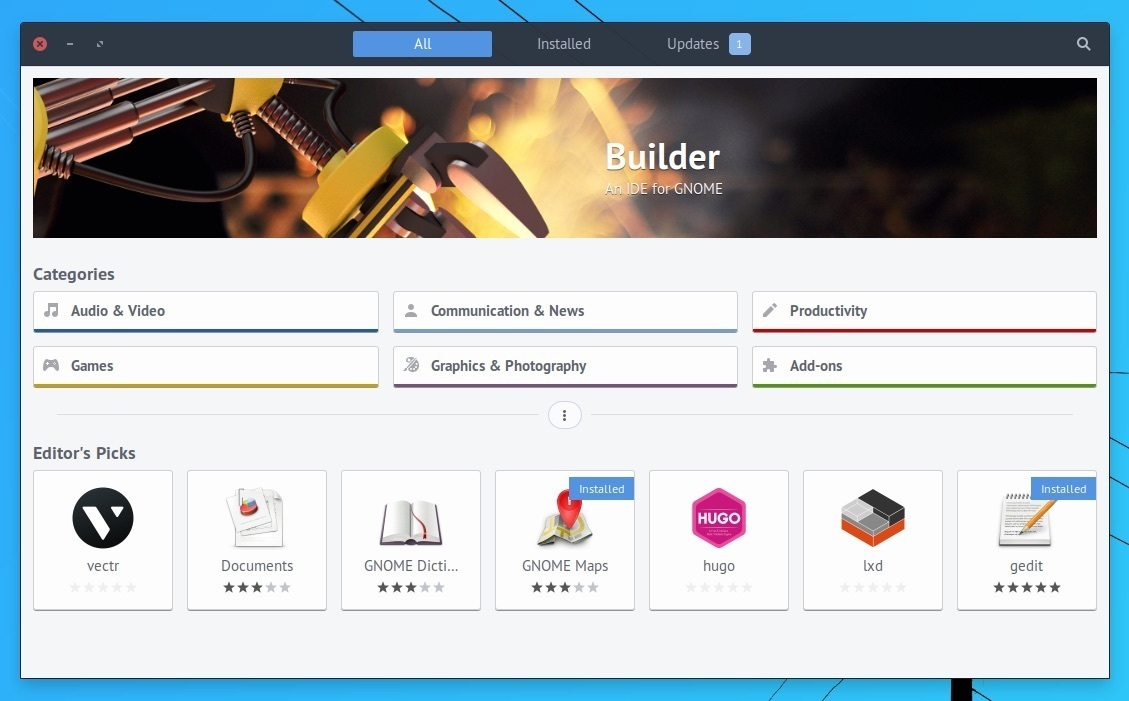 When you want to find or install a Snap app you're supposed to head to Ubuntu Software, which is part of the default Ubuntu desktop.
But if I'm being honest Ubuntu Software sucks. It's slow. The layout isn't great for discovery. And Ubuntu's instance on listing (often irrelevant) Snap apps at the top of any and all search results muddies its use as a competent cross-format app hub.
Ubuntu Software sucks. It's slow, the layout isn't great, and it there's no way to only see Snap apps
With Flatpak, Snaps and regular repo apps all mixed in together it's a tad difficult to tell which apps are in which packaging format (unless you have the patience to open each listing separately to pore over its meta-data, which most of us don't).
Adding a "Snaps only" filter would be big boon.
But until that happens, if it happens at all, there is an alternative, and far faster, way to discover Snap apps.
— And no, I don't mean solely by reading this blog! 😉
All you need is a web browser.
The (Rather Ace) Online Snap Store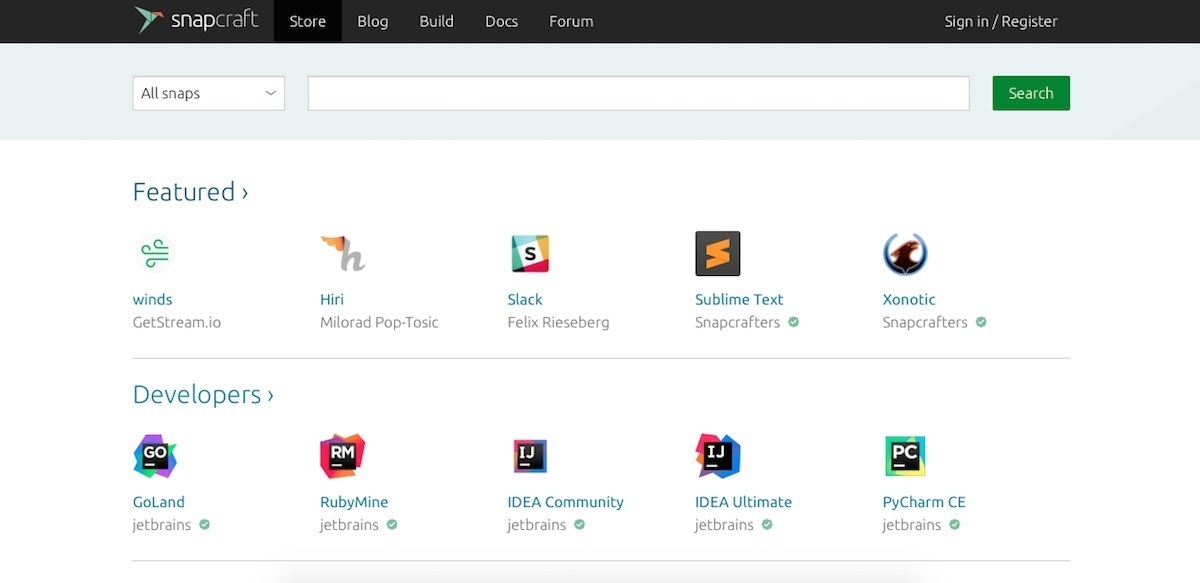 Flathub, the Flatpak app store, has a really nice web front. Clearly keen to keep pace Canonical recently improved the online store front for Snap Store.
And emphasis falls on 'the' there, as unlike Flathub, which is just one of many Flatpak repos, there is only one place to get Snap apps from.
Keen to keep pace with Flathub Canonical recently improved the online Snap Store
Because the online Snap store is dedicated to snap apps it is much easier to browse what's available, find out who uploaded/maintains the package (and whether they are a verified publisher) and learn more about how you can install it on your Linux distro.
A 'featured' section tops the homepage with a selection of specific software categories sitting below.
Categories aren't navigable from any where but the home page (at the time of writing) which is a bit of an oversight. Available categories include 'developers' (apps for developers), 'social networking', 'music', 'video' and 'server', and many more.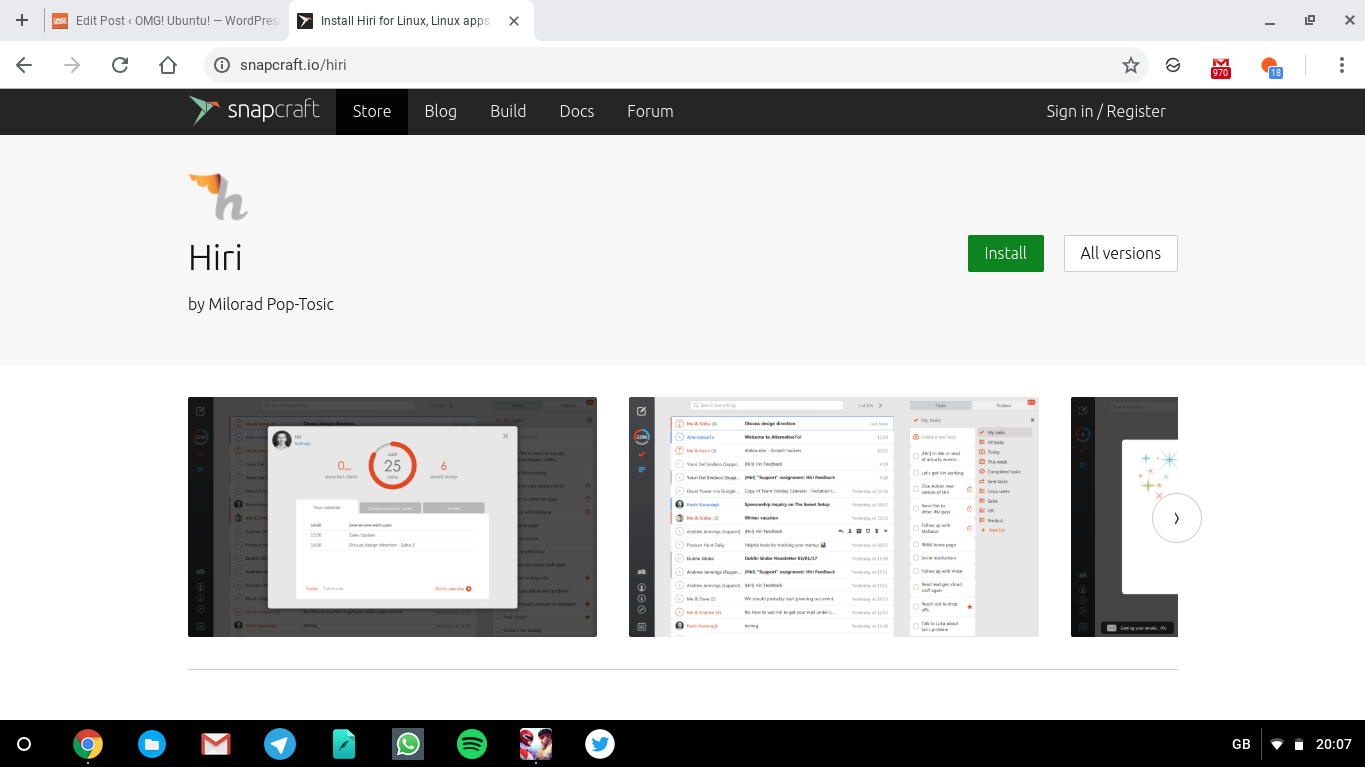 One neat touch: you can use the search box to list apps within a specific category, e.g., search 'graphics' to see a list of graphics apps, search 'music' for music apps, and so on.
The application listing page offers a short description, an overview of the application download size and details on the software license. Most pages also offer a couple of screenshots so you can see what an app is like prior to installing.
App listings are somewhat detailed, with screenshots and quick install buttons
All app listings list a number ways you can install the app, including clickable snap://urls for those browsing on Ubuntu, and terminal commands for those who who prefer to keep things CLI.
A few other bits of information would improve listings further, like displaying the date of the 'last update', offering links to the app or developer's website, and giving some indication as to the the software 'category' the app fits in to (useful for times when one checks out an app recommended in the 'featured' section).
Ubuntu's Online Snap Store is Worth Checking Out
In all, the website is useful for both snapvocates and app developers themselves. Rather than app devs telling potential new users how to install their app they can just link to the Snapcraft.io website listing instead — a win-win for everyone.
Check the online Snap store by visiting at the link below. Be sure to pop back once you've had a browse to let us know what you think of it!
Visit the Online Snap Store
How To
gnome software
snap apps
snappy