Driver Booster is a free program you can install in Windows to check for outdated or missing drivers. If you've plugged something new into your computer only to have Windows not recognize it, or you're getting network access errors or some other problem with another piece of hardware, a driver updater tool like Driver Booster can help.
Drivers
in Windows are vital to the proper operation of hardware. Without
them, the operating system won't know how to use the hardware you
plug in, like your microphone, keyboard, webcam, etc.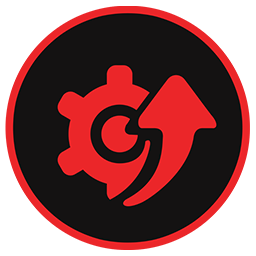 This
program includes other tools, too, so that you can not only update
drivers but also do things like roll back a driver to a previous
version and view various information about your system.
Driver
Booster Features
Before
we dive into how to use the program, let's take a quick a look at
all of the best features in Driver Booster:
Download more than one driver simultaneously.
All drivers are downloaded within the program (you don't have to manually search for them).
Run driver scans automatically every day/week/month.
Scan newly connected devices automatically.
Most drivers can be installed without you having to click through the setup.
Show only drivers that have passed WHQL testing.
View the current and available driver version number.
Make a system restore point automatically before the driver installs.
Auto-delete the driver package after installation.
Ignore updates you don't want to install.
Roll back drivers to an older version.
Export a list of all the drivers to a text file.
Uninstall drivers from the computer.
Restore drivers via a driver backup.
See lots of information about your computer hardware.
There are small tools built-in that can fix network failures, bad resolution, and sound issues.
Although
it's not entirely necessary to mention since it's not a
functionality feature, you might like to know that you can also
change the Driver Booster skin. There's a black and white skin you
can quickly select from the program's menu, but you can also pick any
color you want from the color panel.
There is also the option to download drivers through a proxy server if that's what you prefer.
How To Scan For Driver Updates
Driver Booster is extremely easy to use, which is why it's one of our favorite driver updater programs.
Open the program to immediately start a new scan, or if one doesn't start, then click SCAN. You might have to wait a few minutes for the scan to complete depending on the speed of your computer and how many devices you have.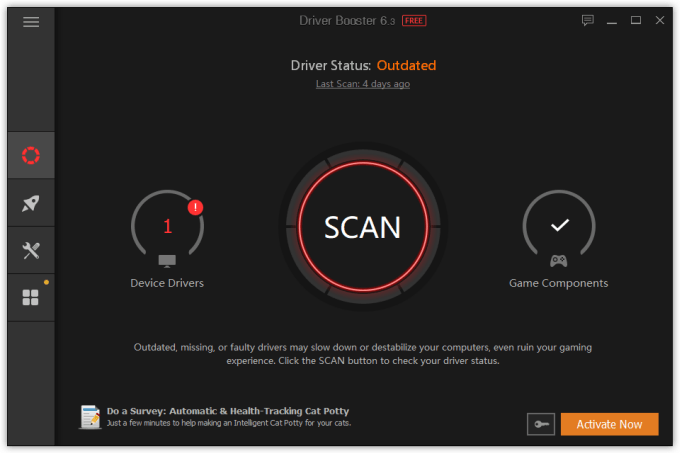 Click Update Now to update all the drivers that have a check mark to the left. It's up to you which ones are updated, so you can remove the check mark on any of them if you want to avoid updating that particular driver right now. To update single drivers at a time, select Update next to them.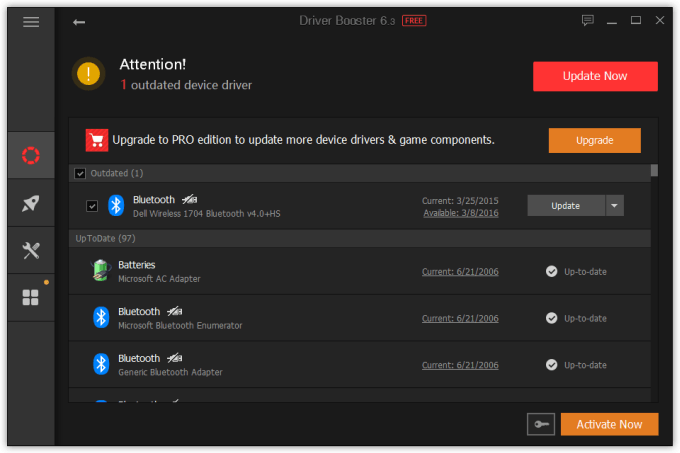 Notice the downwards arrow next to the Update button. You can click it to see more options for that driver, like viewing the version number, removing the driver, or ignoring the device to no longer see driver update opportunities.
Driver Booster will notify you that your security software might interfere with the driver installation, so you might need to disable it until the update finishes. Also, if you're updating the graphics card or network card, remember that the screen or network might temporarily go down during installation, but normal functionality will return upon completion of the driver update.
Wait for the download to finish. The time it takes to complete depends entirely on a number of factors: your bandwidth, the number of drivers you're downloading, and the size of the driver downloads.
Driver
Booster is by far one of the best (if not the best) free
driver updater program you can get. Some driver updater tools just
show you which drivers are outdated but don't provide a download
link, whereas Driver Booster is extremely easy to use because there's
just a few clicks you need to make to get and install the drivers.
However, the free version doesn't provide every driver update the program offers; there's reportedly a discrepancy of half a million. It also doesn't download drivers as quickly as the Pro edition, won't back up drivers automatically, displays ads to get the Pro version, and doesn't update the program automatically.