The context menu is a quick way to do important things in Windows. It's also known as the right-click menu. So what do you do when the right-click menu is slow to appear or doesn't show at all? We've got the list of best fixes for a slow right-click menu in Windows 10.
Yes, turning it off and then on again is the quickest thing to try, but you probably already did that. Here are the best fixes for a slow right-click menu:
Update graphics drivers
Try a clean reboot
Remove items from the context menu
Uninstall Windows customization software
Edit the registry
What Causes the Slow Right Click Menu on Windows 10?
It seems like a simple thing. The context menu is just a brief list of commands, so what could slow it down? It's usually just one thing. Each time the context menu opens, it has to hook into all the commands that it lists. 
If one of those isn't responding, the right-click menu slows down. The challenge is to figure out which one and either fix or remove it. Items related to graphics card drivers are the most common cause.
Fix Slow Right Click Menu by Updating Graphics Drivers
In the right-click menu, there are one or more options related to graphics. They're also typically more complicated than other options. The one below goes four levels deep and has over 40 options.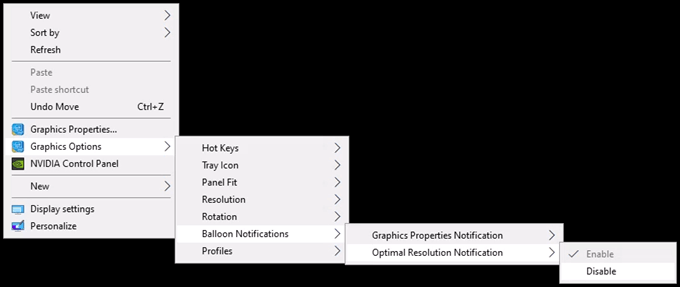 That takes some time to load every time you right-click. Now imagine that the graphics driver that provides that context menu isn't working right. Try updating your graphics card drivers.
Open the Start menu and search for device manager. Select Device Manager.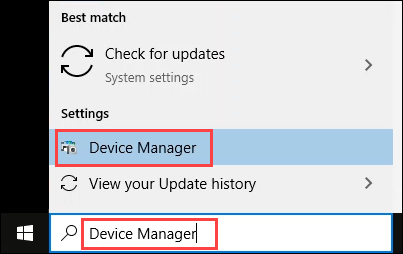 In Device Manager, go to Display adapters > Your Adapter. Right-click and select Update driver. In this example, the adapter is an Intel HD Graphics 530.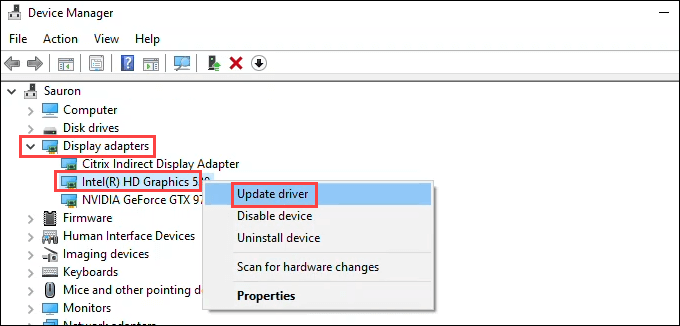 In the window that opens, select Search automatically for updated driver software. It will begin searching for better drivers.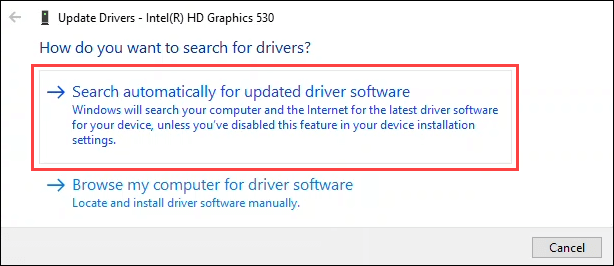 If it finds an updated driver, make sure it's suitable for your device and update it. If it doesn't find one, select Search for updated drivers on Windows Update.

Windows Update probably reads: You're up to date. Ignore that. Select Check for updates. It will start looking.

If Windows Update finds anything, it will start installing it. Note that the picture above reads: You're up to date. Note that the picture below shows an update happening. Never believe Windows Update is up to date.

If Windows Update doesn't find an update for your driver, search the manufacturer's website. In this example, there are drivers much newer than the one installed. Follow the manufacturer's instructions to install the newest driver.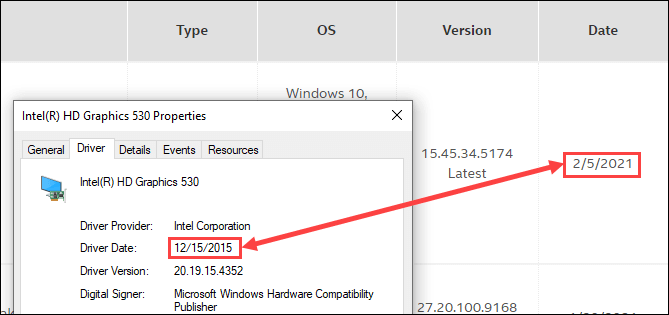 Fix Slow Right Click Menu With a Clean Boot
No, we don't mean kick it wearing shiny shoes. It's possible that some other program that runs on startup is interfering with the right-click menu. A quick way to tell is to do a clean boot. Clean boot means to start windows with none of the programs that run at startup or unnecessary drivers. It only loads what Windows needs to run. You need to have administrator's rights to do this.
Go to the Start menu and search msconfig. Select System Configuration.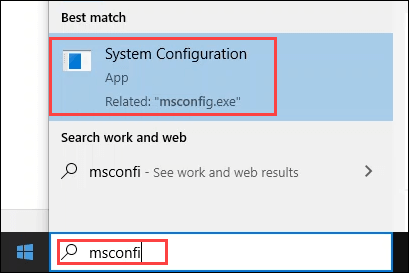 In the window that opens, look for Selective startup. Uncheck the box Load startup items and select OK.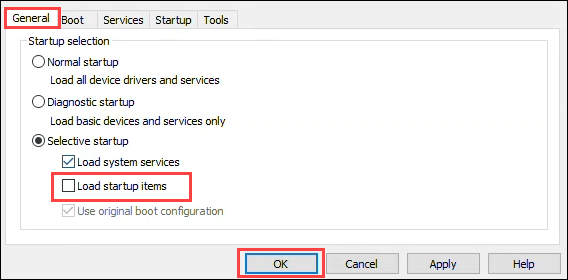 A caution message appears that recommends saving open files and closing all programs. Once that's done, select Restart.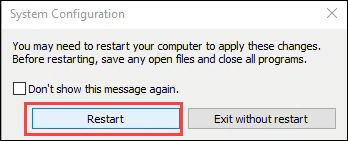 After the computer restarts, try the right-click menu again. If it's still slow, carry on to the next method. If it's fast again, one of those startup programs is the cause.
Open the Task Manager using the Ctrl + Shift + Escape shortcut key combo. Go to the Startup tab and right-click on the first enabled item. Choose Disable. Restart the computer normally and check the right-click menu. If it's still slow, move on to the next item in the Startup tab and repeat the procedure.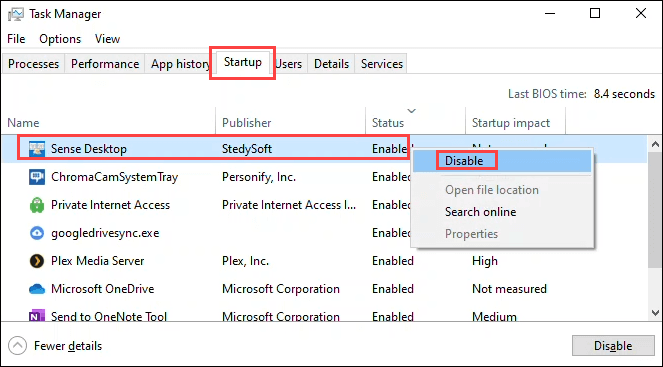 Eventually, the right-click menu may work. The last disabled startup program is causing the issue. There are too many programs to suggest how to fix them all. Uninstall the program if you don't think you need it.
Fix Slow Right Click Menu By Removing Items From It
Some programs will have an option to remove their functions from the right-click menu. Or if you don't use a program that shows in your right-click menu, uninstall it. For those programs you need and don't have the option to remove right-click menu functions, you'll need a context menu editor. We list a few below. 
For this example we'll use ShellExView from Nirsoft. You'll need administrator's rights to use it.
Download and run ShellExView. There's a lot there. Go to Options > Filter by Extension Type. 

Select Context Menu only, then select OK.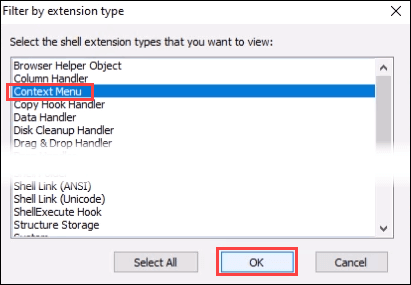 To keep us away from anything important, sort the list by selecting the Product Name column header. Avoid anything Microsoft or that you don't know.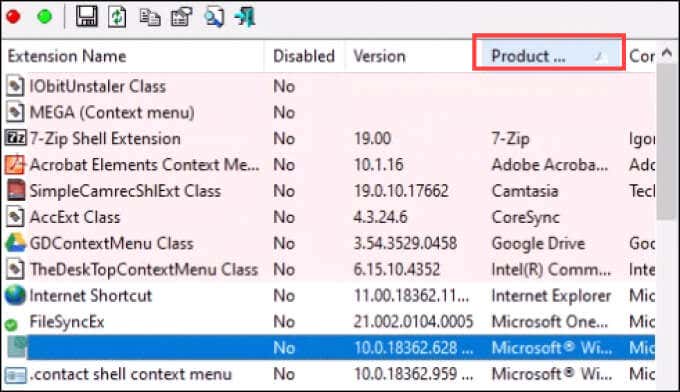 Select an item, or several, to disable. Right-click and Disable Selected Items.

It asks Do you want to disable the selected items? Select Yes.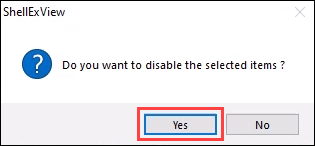 Restart the computer and test the right-click menu.
Here are some other context menu editors to try if ShellExView isn't for you:
Ultimate Windows Tweaker
File Menu Tools
ShellMenuView
Right Click Enhancer
Easy Context Menu
Uninstall Windows Customization Software
There are several apps that allow you to make Windows look and feel the way you want. These apps are usually great and can be very helpful. The potential problem comes from these apps interacting with Windows on a deep level. They could affect Windows Shell items, like the context menu.
If you have any apps like these, try uninstalling them. Some popular apps are StarDock Fences, Start8, and WindowBlinds. Windows theme or skin apps can also be a problem.
Edit The Registry to Fix Slow Right Click
If none of the above worked, it may be time to get into the Windows Registry. If you're not comfortable working in the registry, don't do this. Always make a backup of the registry before making any changes. You'll need administrator's rights to do this.
Select the Start menu and search on regedit.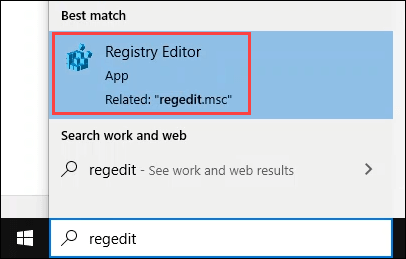 When the Registry Editor window opens, go to HKEY_CLASSES_ROOT > Directory > shellex > ContextMenuHandlers.

Do NOT delete the New and WorkFolders items. Right-click and delete the others. If you want to pin down the one that's the problem, only delete one, restart the computer, and try the right-click menu again. When the right-click works, the last one deleted was the problem. You can add back the others if you'd like.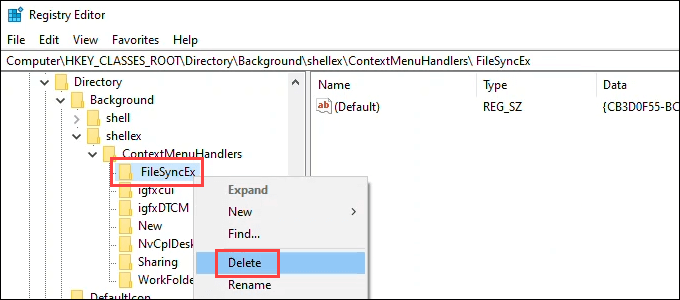 If the problem with the right slow click on Windows 10 still exists, consider a factory reset or reinstalling Windows. That may seem excessive, yet the steps above are also intensive. If one of them didn't work, the problem is deep, and a reinstall is likely the quickest way to fix it now. Let us know if these fixes helped you!