If you use a Windows PC, you already have a free firewall as part of a suite of security tools in Windows Defender.
The built-in firewall in Windows 10 is effective, and Microsoft recommends that you leave it on, whether or not you're using other firewall software. However, there are third-party firewalls that match, and even surpass Windows Defender's capabilities.
Your WiFi router and security suite also adds more layers of protection from intrusion beyond the Windows 10 firewall, but these may not be enough.  If you want to make sure you have the best firewall for Windows 10 that is not Windows Defender, here's our list of the best options for you to consider.
ZoneAlarm
ZoneAlarm is one of the most popular firewall solutions and one of the most powerful of its kind. Many consider it to be one of the best firewalls for Windows 10. It adds an extra layer of protection for your home Wi-Fi and connections to public Wi-Fi.
Plus, ZoneAlarm includes a stealth mode, which keeps online snoops away, and blocks malware from infecting your devices.  
The ZoneAlarm firewall will assess the security of your Wi-Fi network to improve protection against any attacks, and automatically update itself. This way you're assured of up-to-date protection against threats.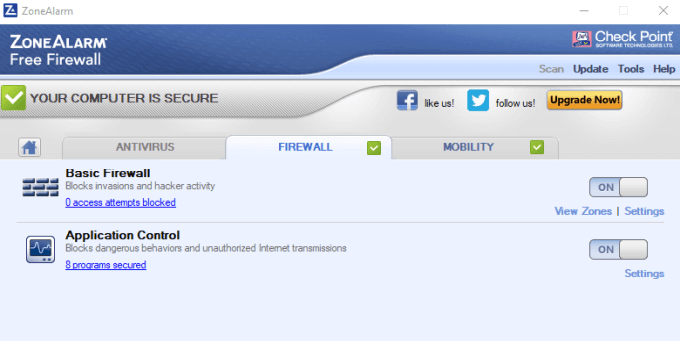 ZoneAlarm has a free version, which identifies potentially unsafe traffic, disables malicious programs, and hides open ports. However, it shows ads, and lacks component control, exploit attack protection, expert rules, and 24/7 support among other advanced settings.
The ZoneAlarm Pro version protects you against phishing attacks, stops spyware from sending your data to the web, and provides identity protection. 
Comodo Firewall
Comodo Firewall is an exceptional firewall security product for Windows 10. It blocks incoming connections, and its up-to-date threat database monitors your device for ongoing threats.
The firewall updates you on suspicious folders, files, and programs, uses Artificial Intelligence (AI) to learn your computer habits to deliver personalized protection and allows you to work uninterrupted. Comodo Firewall also scans for viruses and malware, and checks executable files to make sure they're safe.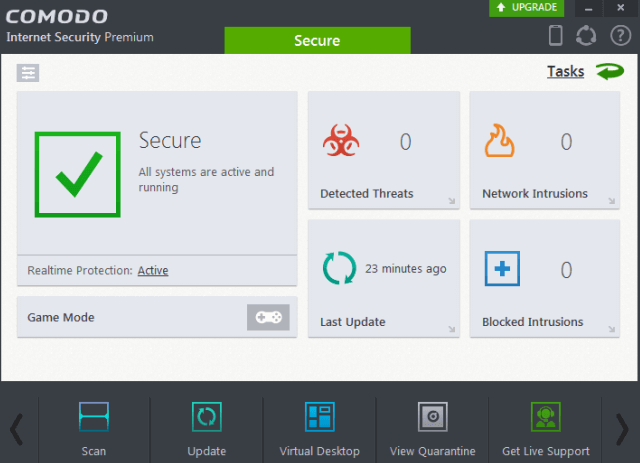 Plus, Comodo Firewall has a user-friendly and attractive graphical interface without complex configuration issues, making it perfect for amateur users. Techies get multiple configuration options to customize Comodo Firewall to their liking.
You can add exemptions for apps that can connect to the web and Comodo Firewall will alert you of any suspicious activity. The firewall will also check your network traffic and stealth your device's ports against hackers.
Other features in Comodo Firewall include a games mode that enables interactive apps to operate over the web, a browser cleanup utility, and blocks malware from sending your personal data over the internet.
TinyWall
TinyWall is a free, lightweight and unobtrusive firewall for Windows 10 that runs all the time to offer on-demand protection against malware, Trojans, worms, and viruses. TinyWall was designed to enhance the native Windows Defender, which is why it's only available for Windows.
TinyWall has a no-popup approach, meaning it won't freeze your computer when you're in the middle of something. The downside of TinyWall's approach is that it's easy to ignore threat alerts, which is a risk to your personal security and that of your data.
While TinyWall has an application scanner that scans your computer for any programs it can add to the safe list, it expects you to manually whitelist programs that you want to allow to access the web. An easier way of creating these exceptions is to use TinyWall's Autolearn mode feature, which learns the programs you want to whitelist based on your usage so you can add all of them to the safe list.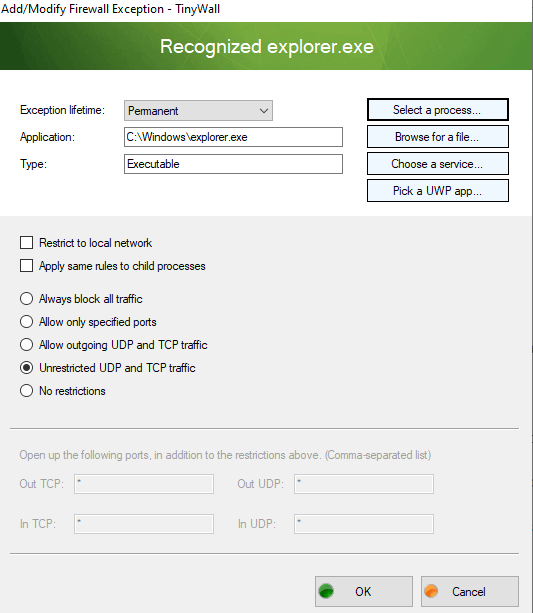 If you find a program you use is blocked, you can add it to the whitelist and carry on with your work. TinyWall does all this without you needing to know about application details, protocols, or ports.
Plus, you can see all the active processes in TinyWall's Connections monitor and see any open ports as well as the processes that are connected to the internet.  You can terminate a process or send it to VirusTotal for an online virus scan.
There's no premium version of TinyWall available.
Norton 360 Deluxe
Norton 360 Deluxe is a multi-feature internet security suite that offers more than just a firewall for Windows 10. Additional features in the software include dark web monitoring, a secure no-log VPN for anonymous browsing, a password manager, and parental controls.
Plus, it comes with 50GB cloud backup for your PC, and SafeCam, which alerts you when cybercriminals are trying to use your webcam and helps to block them.
Norton 360 Deluxe's multi-layered advanced security protects devices against emerging malware threats, and protects your data when you're online.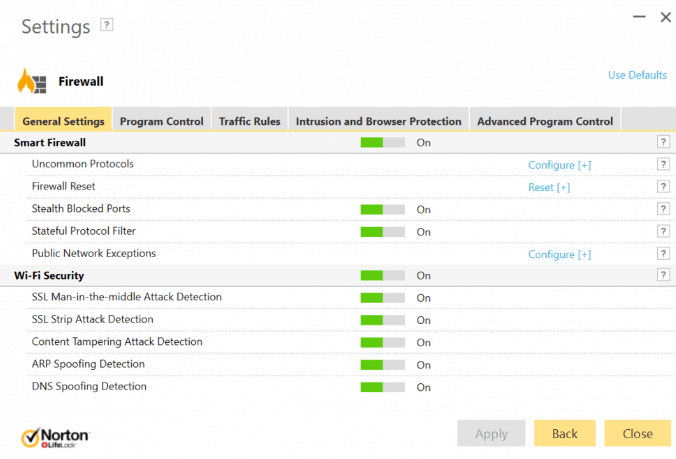 All these features come at a more expensive price compared to other security suites on this list. However, the cost is nothing compared to the peace of mind you get knowing all your devices and data are safe.
You can upgrade to the Lifelock Select version of the software and get additional credit rating monitoring, identity protection and insurance provision in case your personal data is misused. Norton 360 Deluxe does not offer a free trial or free plan.
GlassWire
GlassWire is a free firewall for Windows 10 that doubles as a network monitoring solution. It has a stylish design that allows you to see your network activity and detect threats easily. You can use it for your home network or your small business network.
The firewall blocks incoming connections, monitors bandwidth usage and even throttles some apps to free up bandwidth to be used for other critical apps. GlassWire also tracks all activity on your devices to check for any suspicious activity.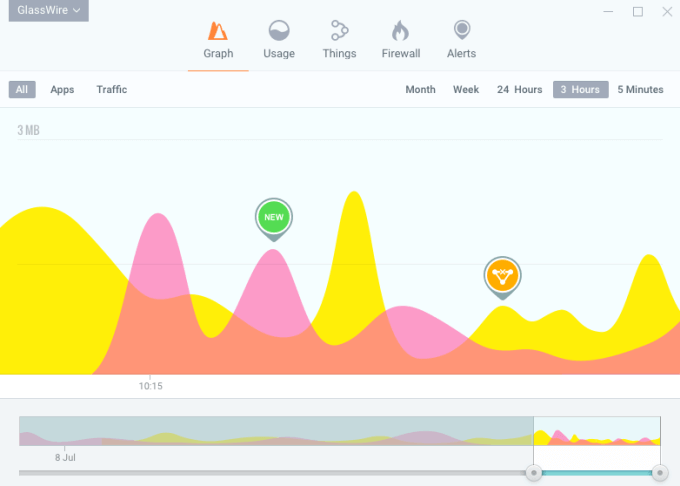 GlassWire doesn't have as many features as it's designed to act as a management interface to the built-in Windows Defender. Plus, it lacks advanced customizations such as port-blocking rules and doesn't block all applications at once.
Protect Your Devices Against Malicious Activity
Windows Defender Firewall does a decent job at looking at what tries to come into and pass out of your computer and decide if it's safe or not. However, it's a rudimentary solution that could do with more features and options, which you can get with the third-party firewalls mentioned above.
Do you use a third-party firewall instead of Windows Defender? Which do you feel is the best firewall for Windows 10? Tell us about it in the comments.