Windows 10 has a built-in photo viewer that you can use to view, edit, and enhance your photos. However, there are a few drawbacks with the Windows 10 Photos app, including the amount of time it takes before previewing an image.
For many Windows 10 users, the slow loading of images remains a major gripe, but that can be resolved by using alternative photo viewer apps.
If you're ready to move on without the Windows Photos app, or prefer a more nimble program, check out our top picks for the best photo viewer for Windows 10.
Also, be sure to check out our YouTube channel where we posted a short video going over some of the options in this article.
Best Photo Viewer For Windows 10
1. IrfanView
IrfanView is the best free photo viewer for Windows 10, with a host of image editing functions. The app is snappy, loads images fast, and has no bloatware. Besides its performance, IrfanView offers batch conversions, media file conversion, and allows you to add plugins to extend its features.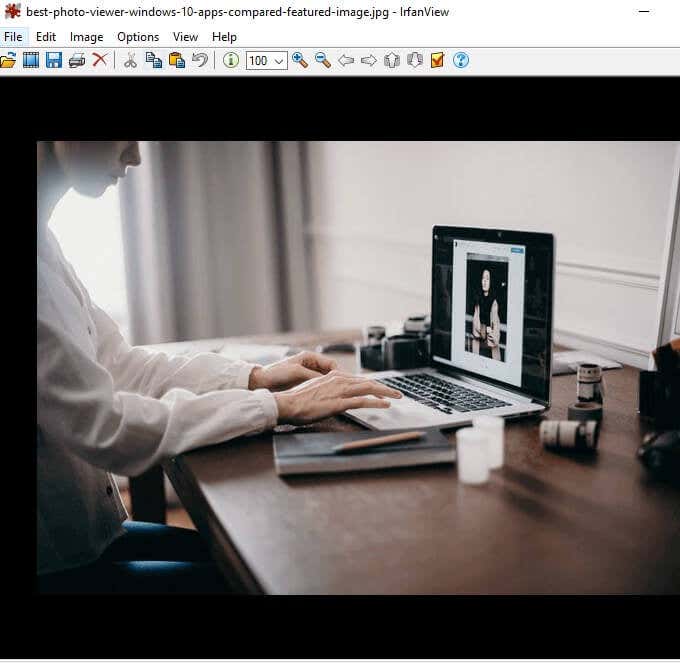 Plus, IrfanView organizes your images, and allows you to zoom or switch to different images using the scroll bar. The app gives you all the perks of the earlier Windows Photo Viewer, minus the laggy mess that is the Photos app in Windows 10.
IrfanView is free to use, lightweight at only 3MB in size, and is compatible with multiple media formats.
2. XnView
XnView isn't just a photo viewing app. It can also work as an image converter and browser for Windows 10. 
The program is quick to learn, intuitive, and free for personal use. Plus, it offers 70+ formats so you can export images and create slideshows, web pages, or image strips.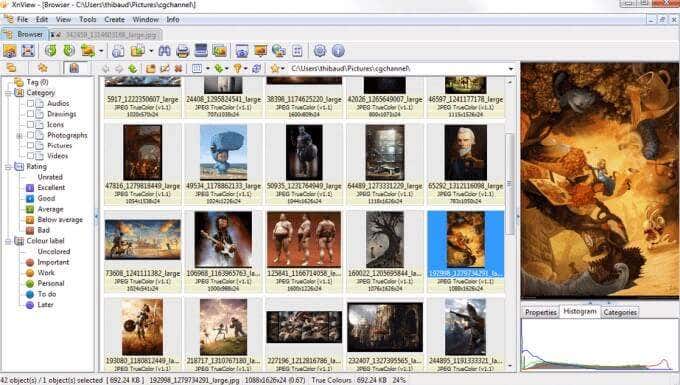 With XnView, you can view and navigate to all your photos at the same time, preview images in detail, zoom, switch orientation, or start a slideshow in a single window.
The app's interface is easy to navigate, offers a larger icon view of selected photos, and allows you to open video or audio files. Plus, it has some editing tools such as resizing, batch conversion, batch renaming, and adjustments.
XnView also has the Duplicate File Finder that helps you identify and find duplicate photos on your computer.
3. 123 Photo Viewer
The 123 Photo Viewer is another free, lightweight photo viewer that offers a fast experience, opens almost any popular image format, and supports batch operation.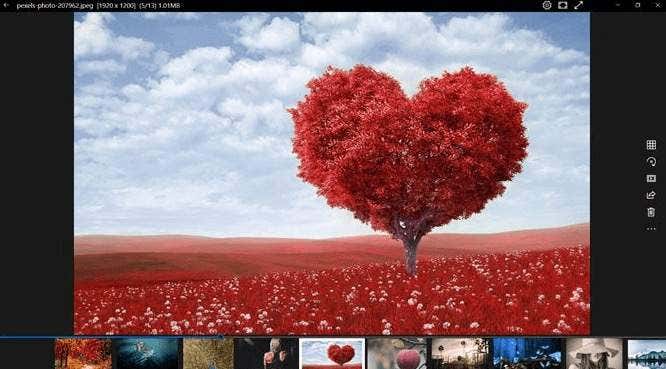 With this photo viewer, you can switch between previous and next images, rename and resize images, or quickly fix images using the cropping tool or red eye removal. You can also use the slideshow feature to relive your happy memories.
The app has a modern, straightforward, and easy-to-use interface. Plus, you can use its wide range of filters and effects for basic editing tasks.
4. ImageGlass
If you want a photo viewer for Windows 10 that works like IrfanView but with a modern interface and design, ImageGlass is worth considering.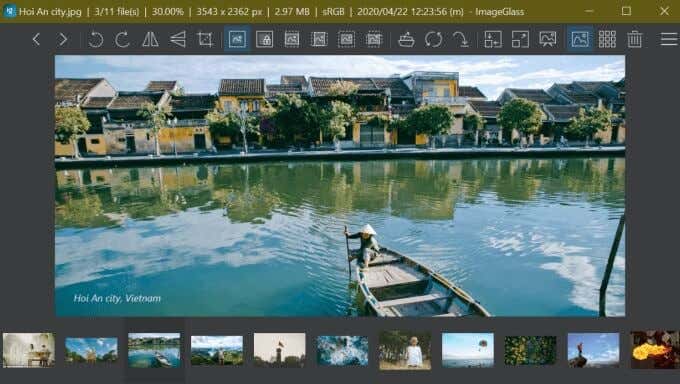 The app is an effective program for photo viewing and editing, with an almost negligible image loading time compared to the Windows 10 Photo app. ImageGlass also displays a quick menu on top of the photo you want to view with quick access to zoom, rotation, print and other important features.
The photo viewer supports JPG, TIFF, BMP, GIF, SVG, HEIC, and RAW images, and allows you to install new themes and language packages. It's also easy to use, and you can link different file formats to different image editors for easier management of your photos.
5. Honeyview
HoneyView is a free, lightweight, and fast photo viewer for Windows 10 with a minimal interface, quick image loading, and stable performance.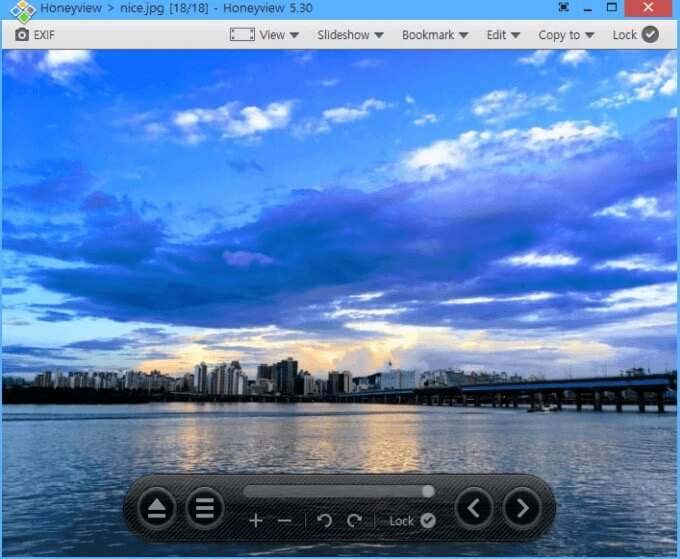 The photo viewer app supports a variety of image formats including JPG, PNG, BMP, PSD, DDR, GIFs, WebP, and popular archive formats like RAR, ZIP, TAR, LZH, CBR, and CBZ.
HoneyView isn't as feature-packed as other photo viewers in this list, but it offers basic features like rotation, resize, save, slideshow, crop, and an image clipboard. You can also bookmark images to find them faster when browsing photos on your computer.
6. Imagine Picture Viewer
Imagine Picture Viewer is a simple, lightweight, and easy-to-use photo viewer for Windows based on the Microsoft.net Framework. The app also offers some basic photo editing capabilities and supports crop, zoom, resize, rotate, and flip functions.
You can also adjust the brightness or contrast, blur, sharpen, and add filters like Sepia, grayscale, Pixelette or Black-n-White.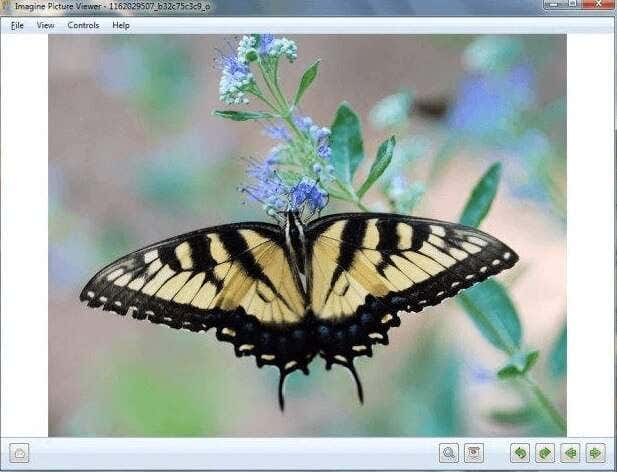 Sharing options are available if you want to upload the photo directly to social media management apps for sharing on your social media pages, or send email directly from the app using Live Mail or Gmail.
Imagine Picture Viewer also has batch image conversion, screen capture, slideshows, and lets you add supported plugins to enhance the features.
7. FastStone Viewer
If you like viewing your photos in full-screen, the FastStone Image Viewer allows you to get a clear view of the photo. The app is user-friendly, fast, and stable with a wide array of features such as resizing, cropping, red-eye removal, color adjustments, retouching, and emailing.
Plus, it has a high quality magnifier, support for major graphic formats including JPEG, PNG, BMP, and animated GIF. The app also supports popular digital camera RAW formats.
The latest version of the photo viewer has three themes: Bright, Gray, and Dark, and added support for audio formats. Other features available include image annotation, drop shadow effects, scanner support, lossless JPEG transitions, musical slideshow with over 150 transitional effects, and scanner support.
8. Movavi Photo Manager
Movavi Photo Manager helps you view, organize, and manage your photo collection. The app sorts your images automatically by location and date, and allows you to add tags to find your images faster.
If you like editing photos together, Movavi Photo Manager selects photos that look similar so you can pick the best and delete the rest. You can also edit one photo at a go, or many photos simultaneously, and use editing functions like crop, rotate, flip, and more.
The app supports PNG, JPEG, RAW and other image file formats, and works in Windows 10 and Mac operating systems.
You can utilize the free 3-day trial to check out what Movavi Photo Manager can do for you before committing to a paid monthly subscription.
Relive Precious Photo Moments
Each photo viewer for Windows 10 in this list has its own unique selling point. You can get a bunch of things done besides just viewing photos, and manage or enrich your photos. Check out our other guides on the best video editing software, best photo recovery tools, how to make blurry pictures clear, and a guide on the best online image compressors and optimizers.
Do you have a favorite photo viewer app for Windows 10? Tell us about it in the comments.