One of the most important things a person needs in order to do high-level creative work is a lack of interruption. Whether you are creating a masterpiece in PhotoShop, studying for a test or coding the latest app, you need focus.
Buried under all the other unsung features of Windows 10, Microsoft has actually included a feature in the April 2018 Update that lets you take control of how and when Windows will interrupt you with notifications.
Anyone who has switched on their computer to a barrage of dings knows how valuable that can be. The feature is called Focus Assist and is very easy to use once you know where to find it.
Using Focus Assist to Get Your Zen Back
If you don't want to be disturbed while playing a video game or during a presentation at work, Windows already has you covered. Focus Assist will automatically activate itself.
If you want to switch it on yourself while doing other activities, you need to head over to the app itself. Just click on the Start Menu and type Focus Assist.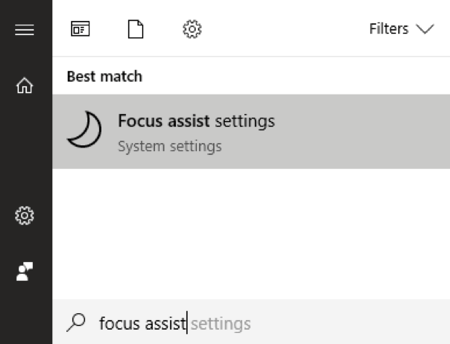 Click on the settings  link to open the Focus Assist dialog.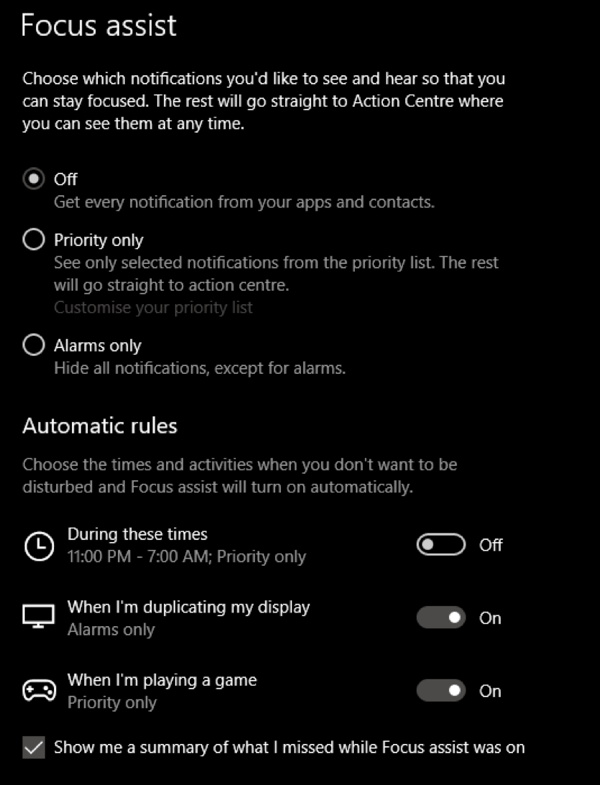 Here you can manually toggle the function from Off to either Priority only or Alarms only.
The former will only show notifications from a list of exemptions. Everything else will get sent to Action Center and you can review those at your convenience.
You can customize this list by clicking Customize your priority list.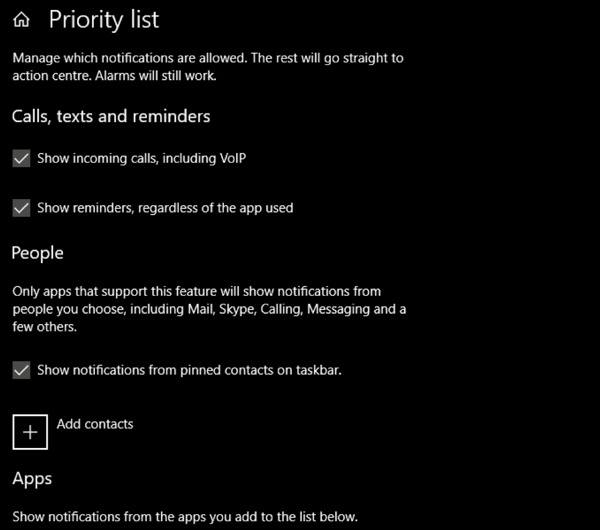 Now you can fine tune what's let in, so that only the notifications that really matter will reach you.
If you choose Alarms only instead, then everything is blocked except for alarms that you have set.
You can also disable the game and projection options under Automatic rules.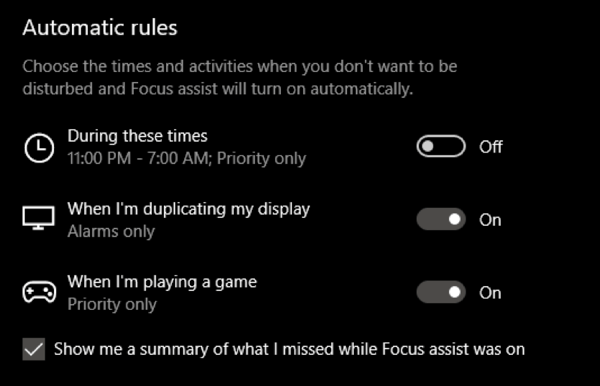 Here you'll also find a super useful feature where you can set specific times every day where your computer won't show any notifications.
This is useful, for example, if your laptop is in your room running something overnight, but you don't want it disturbing you.
There you have it, one simple new feature in Windows 10 that nonetheless can make a big difference to your quality of life. Enjoy!