Bluetooth is the gold standard for device-to-device file transfers and close-range communications, but it has a competitor that you might not have heard of: WiFi Direct. 
What is WiFi Direct? This little-known alternative has been around for years but, unlike Bluetooth, you can use WiFi Direct for more than just file transfers.

Windows 10 has direct WiFi Direct support, but if you're planning on using it, you'll need to know what it's good for (and whether it's safe to use it or not). There are plenty of devices that support WiFi Direct (under various names), so if you want to know more about WiFi Direct in Windows 10, here's what you'll need to know.
What Is WiFi Direct?
WiFi Direct is a standard that allows the use of WiFi radio frequencies (typically 2.4GHz and 5GHz) to make direct, peer-to-peer connections with other devices. You don't need an existing WiFi network to connect to, as the connection is made directly between two devices.
WiFi Direct works by enabling a software-generated access point on the host device, creating a temporary WiFi network in the process. WiFi Protected Setup (WPS) is then used to authenticate, with a push button or PIN code used to establish a connection. This allows for a seamless (yet secure) connection between the devices.
Like Bluetooth, you can use it to send files, share your screen with other devices, play games directly, share your internet connection, and more. It also plays a central part in other systems and communication standards, such as near field communication.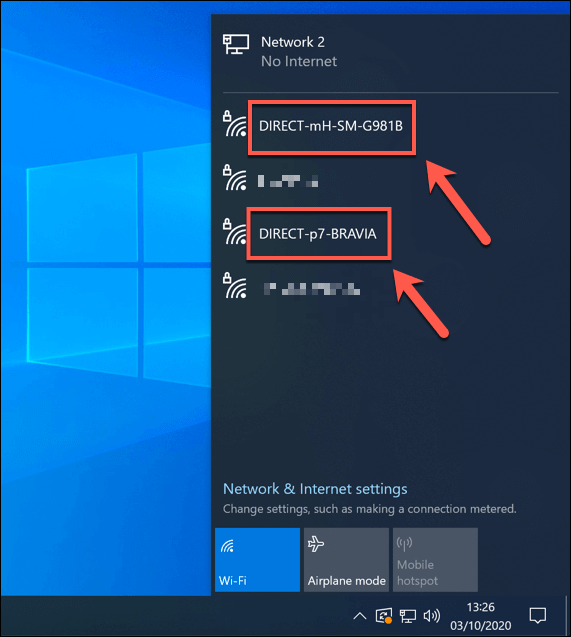 Other WiFi-specific brands, such as Miracast, also use WiFi Direct to communicate. While Miracast is its own standard, it builds upon the WiFi Direct technology to allow  for secure screen mirroring.
Support for WiFi Direct is quite patchy, however. While it is fully supported in Windows 10 (depending on your device), Apple devices such as Macs, iPhones, and iPads use the proprietary AirDrop and AirPlay instead.
Modern Android devices (from Android 4.0 onwards) offer support for WiFi Direct, but you may need a third-party app to make full use of its functionality. It also has some support on certain smart TVs, game consoles, and other WiFi-capable devices.
Checking for WiFi Direct Support on your Windows 10 PC
If you want to use WiFi Direct as an alternative to Bluetooth, then you'll be best served using a Windows 10 PC or laptop. Windows 10 offers full support for the WiFi Direct standard, but your internal WiFi chip (or external WiFi device) will need to support it.
If you want to check whether your Windows PC or laptop supports the WiFi Direct standard, then you'll need to use the Windows PowerShell.
To open a new PowerShell terminal, right-click the Start menu and select the Windows PowerShell (Admin) option.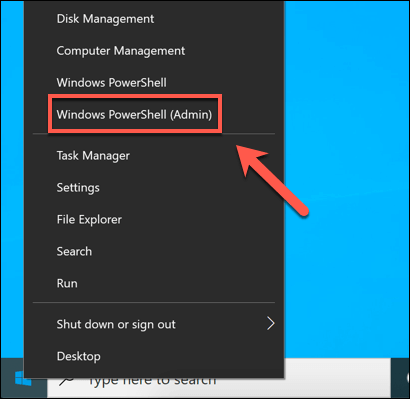 In the new Windows PowerShell window, type ipconfig /all and press Enter. A list of your network adapters and connections will be listed. Look through the list of adapters to find the Microsoft Wi-Fi Direct Virtual Adapter listed.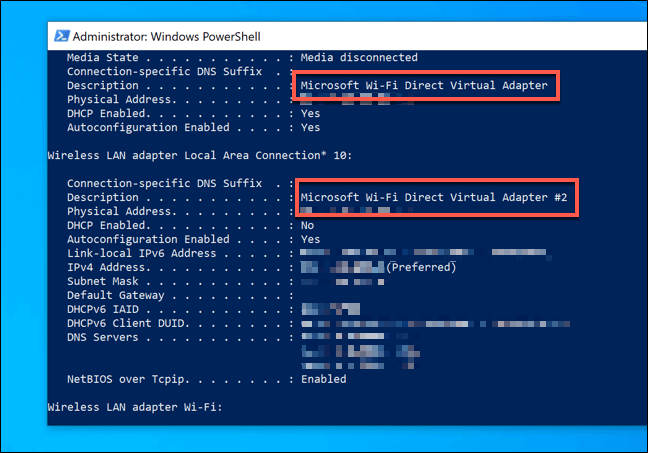 If Microsoft Wi-Fi Direct Virtual Adapter is listed, then your PC supports WiFi Direct connections. If it doesn't, then you'll need to attach a third-party USB WiFi device to enable support for it.
Connecting to Other WiFi Direct Compatible Devices
If your PC supports it, then you can connect to other WiFi Direct capable devices. To do this, you can use Windows' search and discovery features to locate other WiFi Direct devices nearby.
To do this, you'll need to open the Windows Settings menu. Right-click the Start menu and select the Settings option.
In the Windows Settings menu, select the Devices option. From there, you'll  need to select the Add Bluetooth or other device option.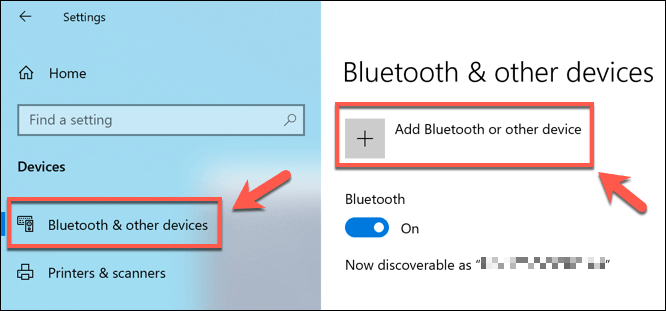 In the pop-up Add a device menu, you can select the type of device you want to connect to. Some WiFi Direct devices, for instance, are largely used for screen mirroring. To add one of these, select the Wireless display or dock option. Otherwise, select the Everything else option instead.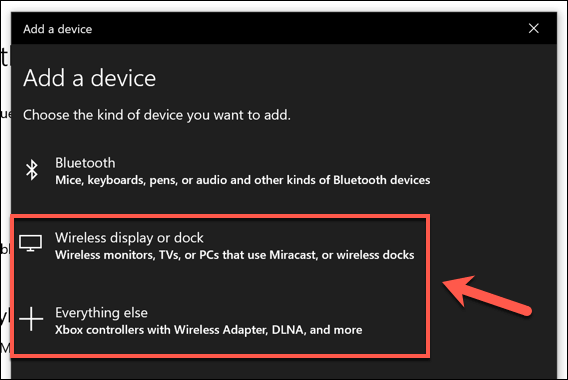 A list of available devices nearby that your PC can connect to will appear next. WiFi Direct-capable devices will also appear, including smartphones, smart TVs, games consoles, and more. To connect to those devices, select the device listed.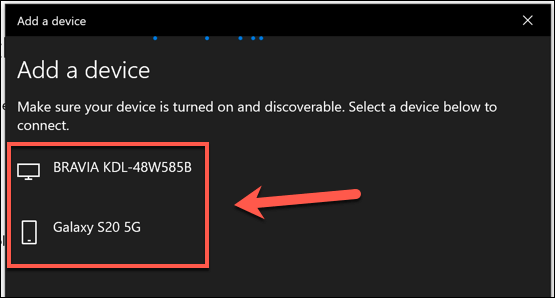 Once the device is connected, select the Done button to complete the connection.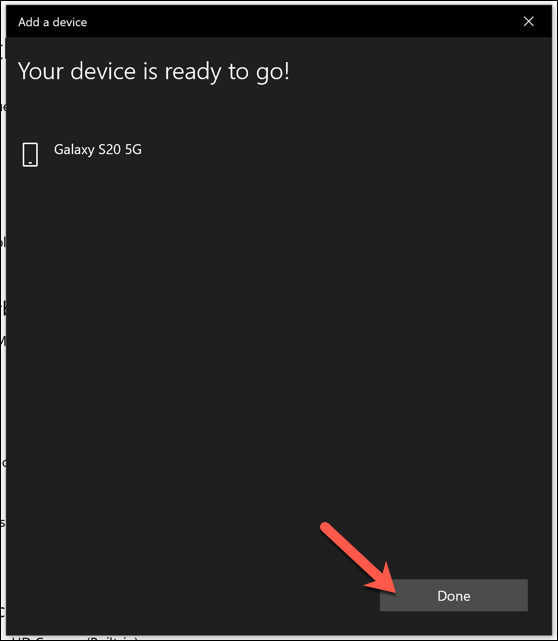 The device will then appear in your list of known devices in the Bluetooth & other devices menu in Windows Settings.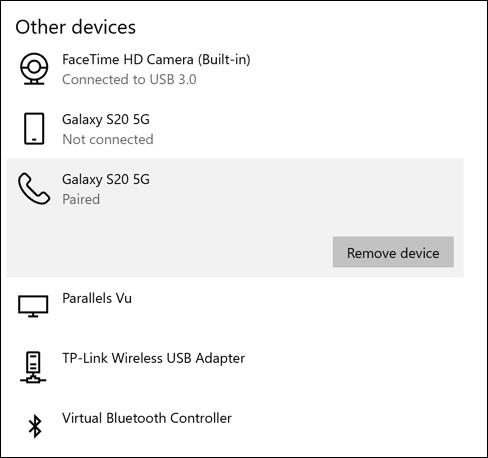 While this method should work for most WiFi Direct devices, there may be other methods you can use to connect, so consult the user manual for those devices for further information.
For instance, some devices that support the WiFi Direct standard will have their own always-on WiFi networks that you can connect to. If you had a HP printer or Sony smart TV, for instance, you could connect by joining the DIRECT-XX wireless network for that device.
Sending Files Using WiFi Direct
One of the best uses for WiFi Direct is for file transfers, especially if you have a large number of files. While you could use Bluetooth, transferring large files (or a large number of them) would take much longer than a WiFi Direct connection.
If you have an Android device, the best way to use WiFi Direct is by using the Feem app, which has Windows 10 and Android support. While WiFi Direct isn't supported for iPhones and iPads, Feem does use an alternative method for file transfers on those platforms.
To start, download and install the Feem app for your Android device. You'll also need to install Feem on your Windows PC. Once installed, open Feem on both devices.
On your Android device, tap the Turn on WiFi Direct slider in the Feem app. This will activate the special WiFi Direct ad-hoc hotspot for your Windows device to connect to. The password required to connect to this network will appear in the top-right corner.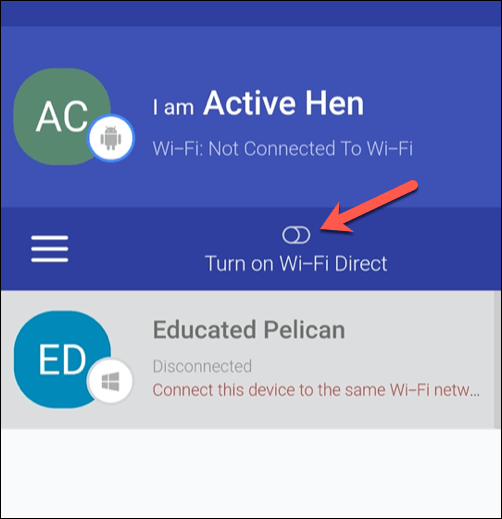 On your Windows device, connect to the temporary WiFi network created by your Android device (for instance, DIRECT-mH-Android). You can do this in your Windows Settings menu, or by pressing the WiFi/Network icon on your taskbar and selecting the temporary WiFi network from there.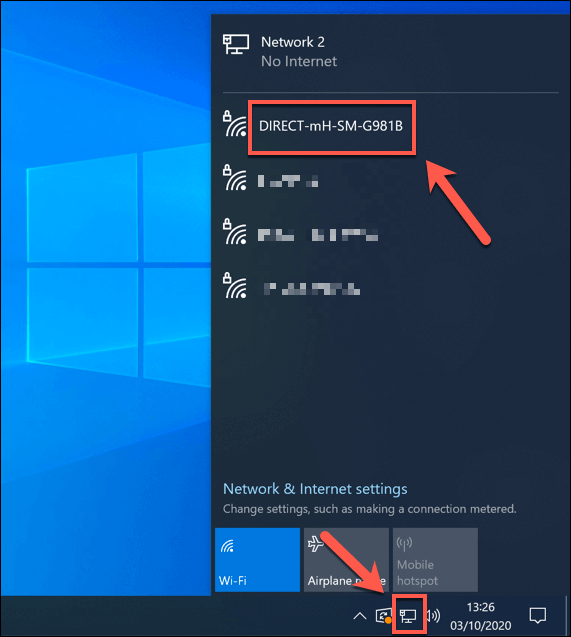 Once connected, open the Feem app on your Windows PC. Your Android device should be listed in the left-hand menu. You can send files the other way by selecting your Windows PC in the Feem app on Android instead. Select the device in the list on either platform, then select or tap the Send File option at the bottom to begin sending files across.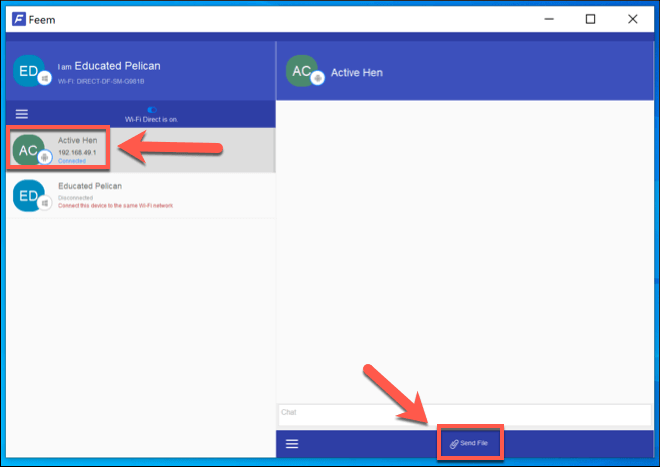 Once the files have been sent, tap the WiFi Direct is on slider on your Android device to disable the WiFi Direct hotspot and end the connection.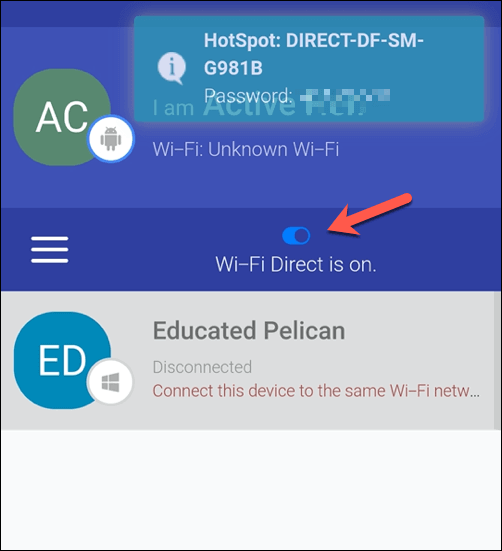 Connecting Windows 10 PCs to Other Devices
As the name suggests, using WiFi Direct in Windows 10 allows you to make direct connections with other devices. If you want to transfer files from your smartphone to your PC regularly, then you may prefer to use the built-in Your Phone app instead.
If WiFi Direct isn't an option, then Bluetooth is your next, best option for standalone, peer-to-peer communication. Many Windows 10 PCs have Bluetooth built-in, but you can make a PC Bluetooth-capable using a USB adapter. You'll just need to remember to switch Bluetooth on first before you attempt to make a connection.