To get stuff done you need to get organised, and to-do apps can be an invaluable tool in helping you achieve that.
Tons of terrific to-do list apps for Linux are out there, ranging from the focused with no-frills through to complex with all-the-frills. In this post I spotlight a Linux to-do app I've used frequently in recent months, called Errands.
Errands, a GTK4/libadwaita app written in Python, boasts a simple design and feature set, making it well suitable to those who prioritise task completion over meticulous organisation — like me!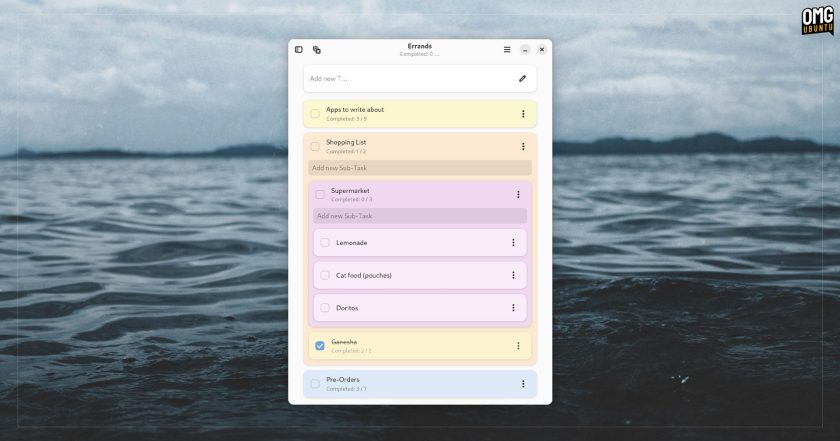 Key features of Errands include the ability to:
Add/remove/edit tasks/sub-tasks
Mark tasks/sub-tasks as completed
Given tasks an accent colour
Sync tasks with Nextcloud/CalDAV
Drag and drop tasks to rearrange
Import/export tasks to .json
Nextcloud and CalDAV sync support was added recently. This makes Errands far more flexible by allowing you to keep progress in-check between different devices, without obtuse workarounds.
Also neat is that sub-tasks can have sub-tasks, letting you create 'nested' notes with tasks subdivided up inside. The ability to assign accent colours buoys this capability by making it easier to visually differentiate between tasks and sub-tasks.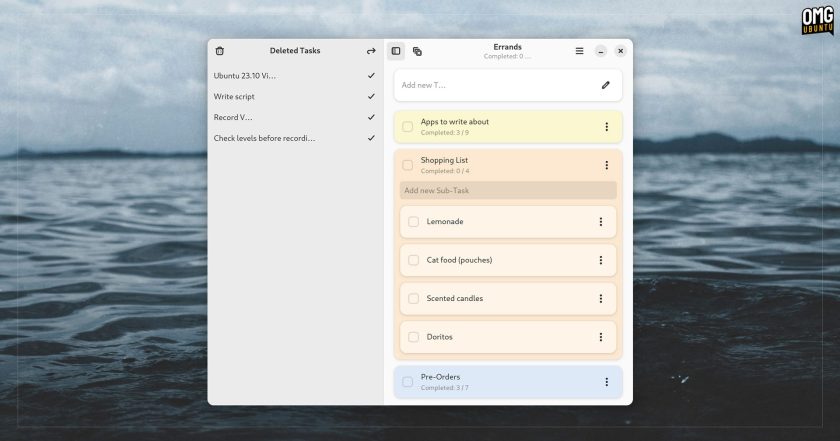 You can hide completed tasks by clearing them out. Once cleared, they're moved to the sidebar, which can be toggled using a toolbar button (the sidebar shows when there's enough room but you can hide it again too).
Should you accidentally mark a task as complete and then clear out completed tasks, don't panic. Open the deleted tasks sidebar and click the 'tick' icon next to the task you wish to restore. This will send it back to its original location.
I have poor working memory (you may have noticed 😅) so I have to write things down, put things in my calendar, set reminders. An app like Errands is a big help as it keeps the things I need to do (that I would otherwise lapse in recalling) 'surfaced' until I actually do them.
My focus stays squarely on what needs to be done, basically.
Check off your to-dos today
In summary, Errands can help you organise and prioritise your pending tasks, making better use of time in the process. Use it as a basic checklist or split things up in to sub-tasks to tackle things piecemeal to stay on top of remaining tasks and track your progress so far.
Whatever way you use it, this app will likely see you spend less time stressing about your do-dos and more time getting them done — so give it a try!
• Get Errands on Flathub
Thanks Julian
Office & Productivity Apps
todoapps