A new version of OBS Studio, version 30.0, has been released with a number of new features and improvements.
OBS Studio is free, open-source live streaming and screen recording software that is popular with gamers, streamers, and even educators and businesses due to its powerful feature set, customisation options, and easy-to-use interface.
For Linux users, OBS Studio 30 is big update as it supports Intel QSV (Quick Sync Video) H264, HEVC, and AV1 on Linux. These additions will significantly improve OBS Studio's performance on Linux when streaming or recording high-resolution video.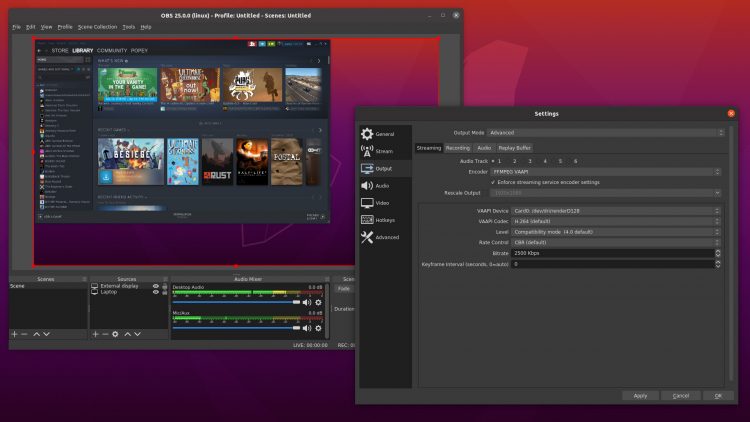 A new 'Safe Mode' enables users to run OBS Studio without third-party plugins, scripting, or websockets. If the app is not shut down properly, it will prompt to run in the new safe mode to support troubleshooting. Additionally, safe mode can be accessed from the Help menu
OBS Studio 30 also adds WHIP/WebRTC output, and support for HDR playback and 10-bit capture on DeckLink devices.
A revamped status bar shows all the info users are familiar with bit in a "well structured way, with more representative and recognizable icons", say OBS.
Beyond new features OBS Studio 30.0 includes a huge number of changes, including:
Audio/video encoder drop-downs sorted by name
Accurate logging for Hardware Accelerated GPU
Filters can be arranged using drag & drop
Support for grayscale MJPEG in V4L/DirectShow sources
Ability to set FFmpeg Options for VAAPI
Dynamic bitrate for AMF encoders
v4l2 sources now always use linear alpha blending
And more than 50 bug fixes, including crash fixes for various PipeWire-related scenarios, rapidly changing scenes, switching NVIDIA audio filters too quickly, FFmpeg VAAPI AMD encoder video quality being too low, and a race condition in the Vulkan graphics stack.
For more details see the OBS Studio 30.0.0 release notes on GitHub (a link to which is now presented in-app via the Help menu), and to download an OBS Studio deb installer for Ubuntu (though the official OBS Studio PPA also provides builds for Ubuntu).
Note: this version drops support for Ubuntu 20.04, Qt 5, and FFmpeg 4.4 or lower.
Flatpak fans can get OBS Studio on Flathub.