While Microsoft's Windows 11 operating system has a rudimentary CD and DVD burning app in the form of Windows Media Player, it's only suitable for those who occasionally need to burn a CD or DVD in a pinch. If you need a freshly-burned disc regularly, it's better to pick one of these best free CD and DVD burner software packages.
The death of the optical disc has been swift, and most computers don't even ship with an optical drive as standard anymore. Still, there are plenty of legacy devices that work just fine if you can convert your current digital content into physical form.

Warning! Watch Out for PuPs (Potentially Unwanted Programs)
This article focuses on CD and DVD burning software, but "free" almost always comes with another payment type. Sometimes it's in-app advertising, which is generally acceptable. However, another increasingly common tactic is to include other software with the free application's installer.
Essentially, the developers of other apps pay the free app developer a fee or commission to sneak their software into the installation process. If you stop to read each window of the installation wizard, you'll notice that this is spelled out clearly, but most people simply click through the installer as quickly as possible.
Since this works on an "opt-out" basis, you may permit those apps to install without realizing it. The apps generally don't rise to the level of malware, but they could include browser hijackers, adware, and other stubborn and annoying programs you probably don't want.
Since the presence of PuPs in software such as the apps we're highlighting below change constantly, it's best to simply pay attention to the installation process and make sure you deselect any of these apps that try to piggyback on the installer.
Important CD Burner Features
Every disc-burning application should have a few key features. It should have a straightforward interface that makes it clear what type of disc project you're creating. If you want to burn videos to disc to use them in set-top players, make sure the app can understand the formats you use, such as MOV, WMV, or AVI files. Otherwise, you'll have to use a dedicated video conversion app to homogenize your media.
The ability to create or read ISO files is also worth looking out for. This allows you to create disc images used in virtual disc drives. It also makes it possible to duplicate discs quickly, even if you only have one drive.
Some features are more niche, and not everyone needs them. For example, the ability to erase DVD-RW discs probably isn't that important anymore. Spanning files across multiple data CDs will only appeal to specific backup use cases.
Finally, we've avoided pure trial software such as DVD Creator or Nero Burning ROM. These applications let you burn discs for a trial period, after which you have to pay to keep using the application. That's different from apps with a free version with fewer functions, which we have included in this list.
CDBurnerXP
As the name suggests, CDBurnerXP was initially created in the era of Windows XP, but it's preserved through Vista, Windows 7, 8, 8.1, 10, and now Windows 11 to remain a crowd favorite burning solution.
CDBurnerXP's feature list covers just about everything you'd typically want to do with disc-burning software. It's not just limited to burning CDs and DVDs but also has support for Blu-Ray discs.
You can create bootable discs and MP3 discs. Crucially for audiophiles, you can make gapless CD Audio from formats like MP3, WAV, OGG, WMA, and Apple Lossless files. Notably, you can both burn discs from ISO disc images and create disc images from discs. If you have BIN or NRG images, CDBurnerXP can convert them to ISO images.
The only thing we can say about this app that's not wholly positive is that it retains the same look it had in the Windows XP days, but that might even be a positive thing for some of you!
Ashampoo Burning Studio Free
Ashampoo's software is the free version of the paid premium package. While Burning Studio Free only has a subset of the features, you'll find it in the paid version. Most users will be happy with what's on offer.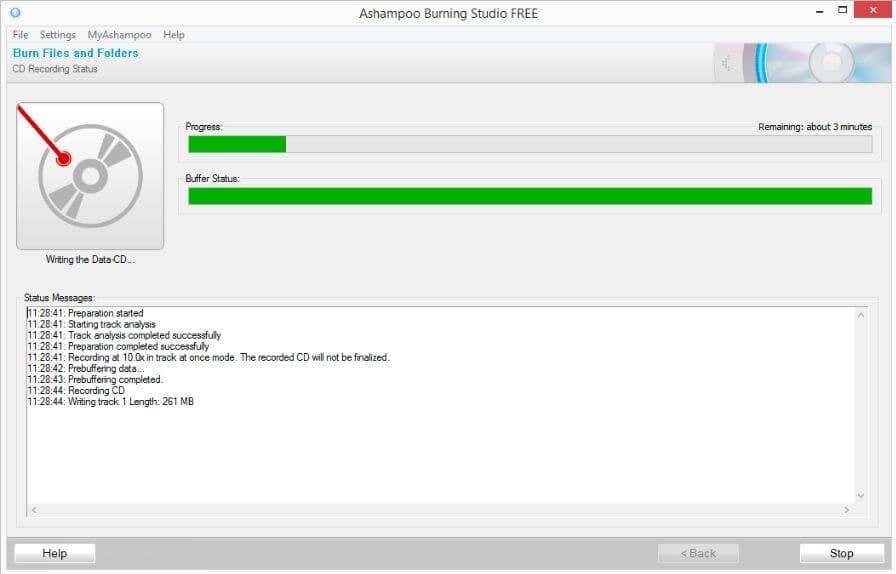 Most importantly, this is one of the most accessible burning apps. So if you aren't particularly confident about your ability to properly burn a disc, Burning Studio Free does a great job. It lays out the different types of disc projects most people want to tackle while being perfect for beginners.
The only mild annoyance is that you have to request a license key for the free version of the software, which means submitting your email address. Use a burner account if that's a problem for you.
BurnAware Free
The free version of BurnAware cuts it down to the bare bones of CD burning. You can burn data discs, make copies, create audio CDs, MP3 discs, and video DVDs, and it allows Blu-Ray burning.
What's excluded from the free version are advanced functions such as multi-disc spanning, ISO extraction, direct disc-to-disc copying, audio extraction, and data recovery from unreadable discs if you don't need any of those functions.
There is some mild nagging to buy the paid version of the software, and watch out for a sneaky attempt to install WinX DVD Ripper Platinum during the installation process.
ImgBurn
Imgburn is a freeware application. That means it's not a cut-down version of paid software but that you're getting the whole experience. Freeware isn't open-source, however. It's still copyrighted software that the developer has chosen not to charge money for. You can choose to donate some money to the author to support the app's development, but it's completely optional.
ImgBurn's claim to fame is how small and lightweight it is. The software uses dedicated modes to read, build, write, or verify discs. It also has a "discovery" mode that tests the quality of your drive's burned discs.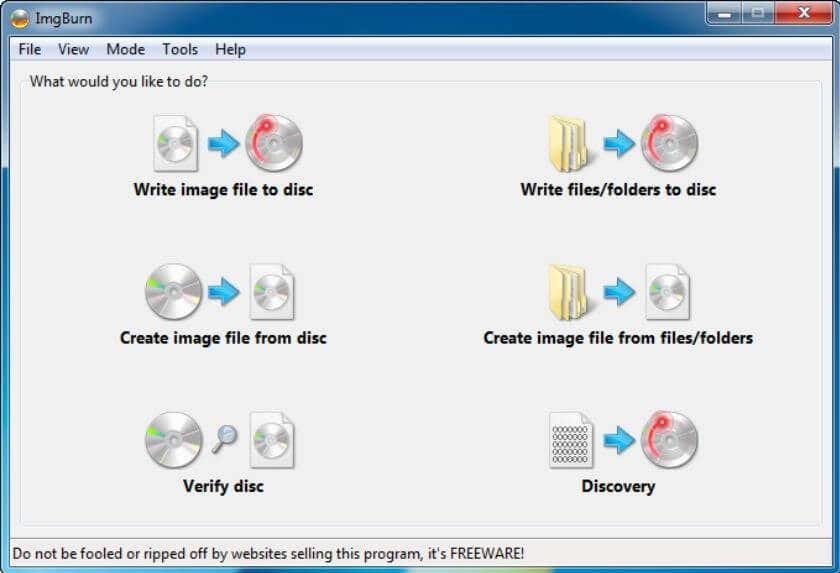 Given that this is "image" burn, the support for disc image formats is phenomenal. You can use BIN, CCD, CDI, CUE, DI, GI, IMG, ISO, MDS, NRG, and PDI file formats. If you've discovered an archive of old disc images, ImgBurn is the perfect tool to unlock them. ImgBurn supports most Windows versions, not just Windows 10 or Windows 11. We're talking back to Windows 95! Even better, if you have a Linux system, it will work through WINE.
WinX DVD Author
While most CD and DVD burning applications do a fair job of simply putting data onto a disc or making direct copies of original discs, DVD-authoring is a more specialized job. This is where you create a DVD that will work in a DVD player, complete with menus, subtitles, and other features that make commercial DVDs what they are.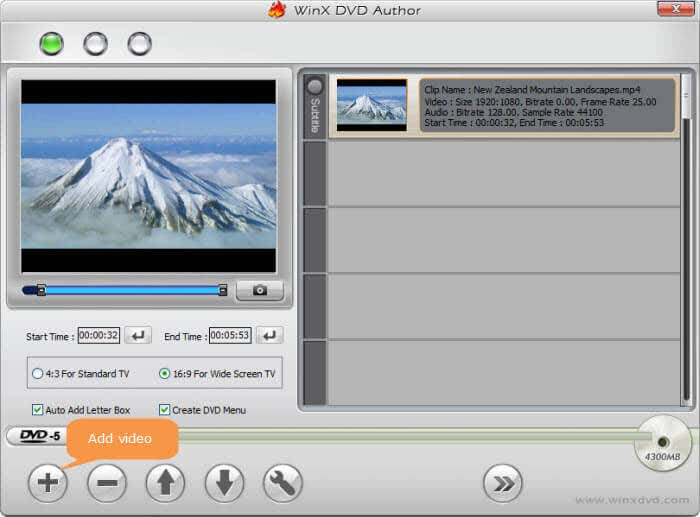 Let's say you want to create a family home video DVD, or you need to create a training DVD for work from video files you've recorded. That's where you want authoring software. WinX DVD Author is one of the few free solutions to making a proper DVD.
It's also easy to use, which is a blessing considering that DVD authoring can get confusing quickly. If you're looking for a solution because you've suddenly been asked to make a DVD for the first time, this is one of the best free DVD authoring packages, in our opinion.
DVDStyler
If you're not completely happy with WinX DVD Author, DVDStyler is the first alternative we'd suggest. Like the WinX program, this software lets you create your interactive DVD menus. You can either make them from scratch or quickly choose a template to use as-is or modify.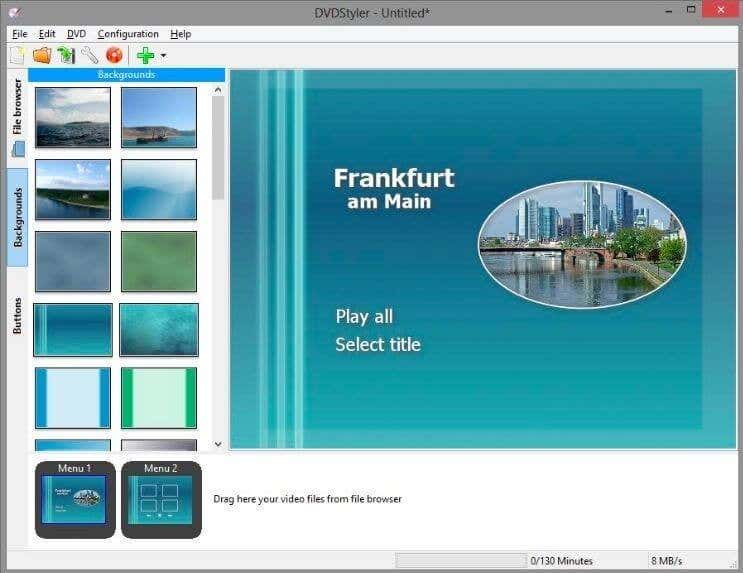 It's easy to add multiple subtitles and audio tracks and create custom navigation using DVD scripting. You can also mix and match audio and video formats on the same DVD project since the software will just convert it all at the end of the process. As long as your content is in one of the supported formats, it should just work. That saves time because you don't have to re-encode anything.
DVDStyler needs a little more effort, time, and learning to master than WinX DVD Author, it's true. However, you can make something more tightly customized if you need it.
Free Audio CD Burner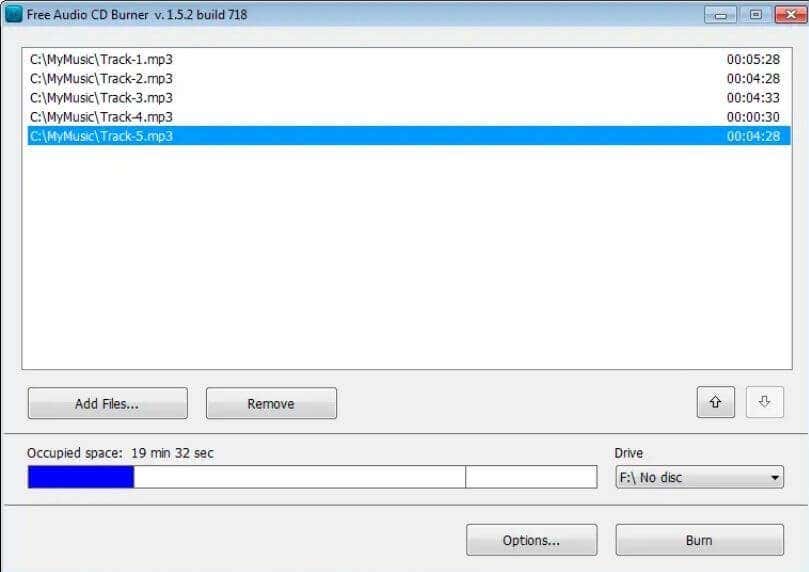 Although everyone seems to have moved over to music streaming services these days, many quality audio systems only play audio CDs. You may have an excellent HiFi system that works just fine or one of the many people who drive a car with a CD player. If you have such a car and it doesn't have an auxiliary audio input, then Free Audio CD Burner is good.
DeepBurner Free
DeepBurner is another respected name in the disc-burning world, and the free version of the software offers just enough to cover most home users. You can Burn data DVDs and CDs, Burn audio CDs, create and burn files in ISO format, and make bootable discs.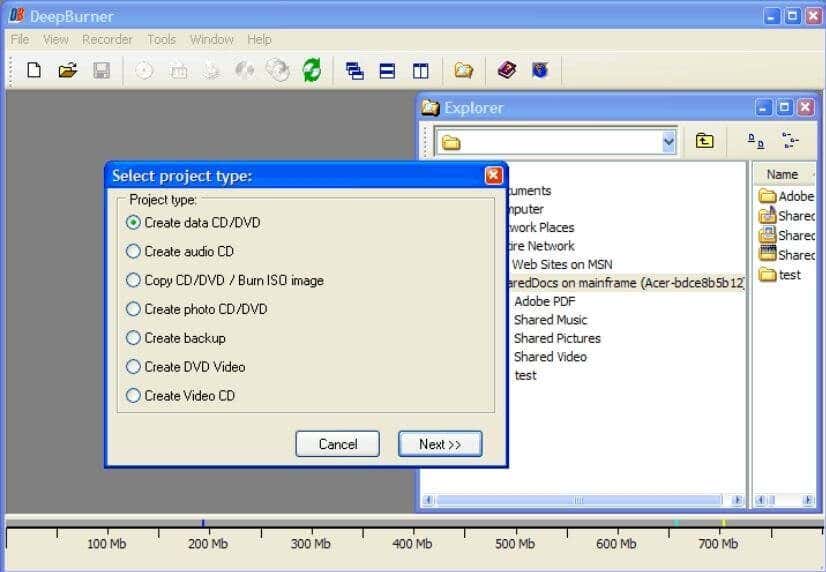 Everything else is locked in the $30 DeepBurner Pro version of the application. However, you can get a 30-day fully-featured trial version if you only need those advanced features for a short while.
InfraRecorder
InfraRecorder is an open-source program. That means the source code is available for anyone to tinker with or examine. That means no spyware or other malicious code is in this software.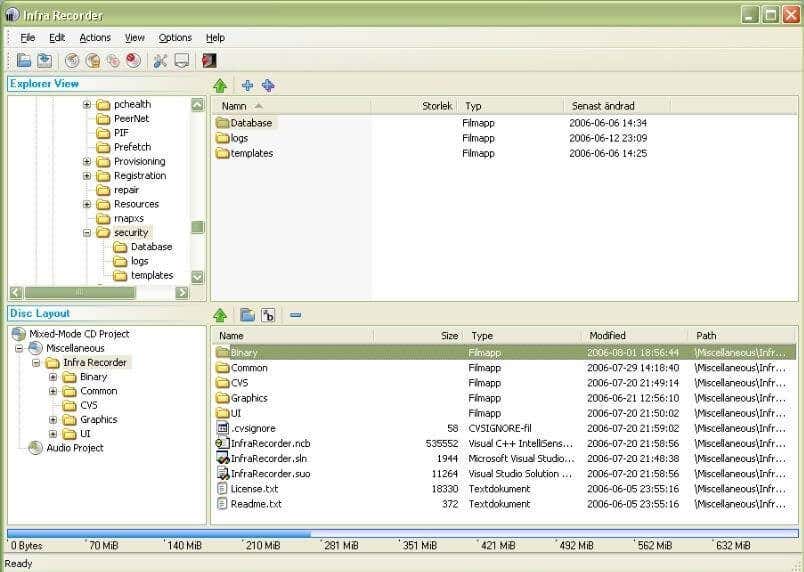 While the software is only listed as compatible up to Windows 7 and hasn't been updated in ten years at the time of writing, it installed and launched without issue on our Windows 11 system.
All of the key features you'd want in a disc burning program are here, although, as you might expect from such an old application, there's no support for Blu-Ray disc burning. Then again, this is open-source software. So any intrepid coder who feels like putting in the work can add this feature.
iTunes (Windows Store)
It's deeply ironic that while Apple's computers no longer use iTunes, on Windows, the app is alive and well. While we can't recommend iTunes as an available CD or DVD burning application, it's great if you want to create audio CDs or MP3 CDs. The discs that iTunes makes are, in our experience, highly compatible with the majority of players out there.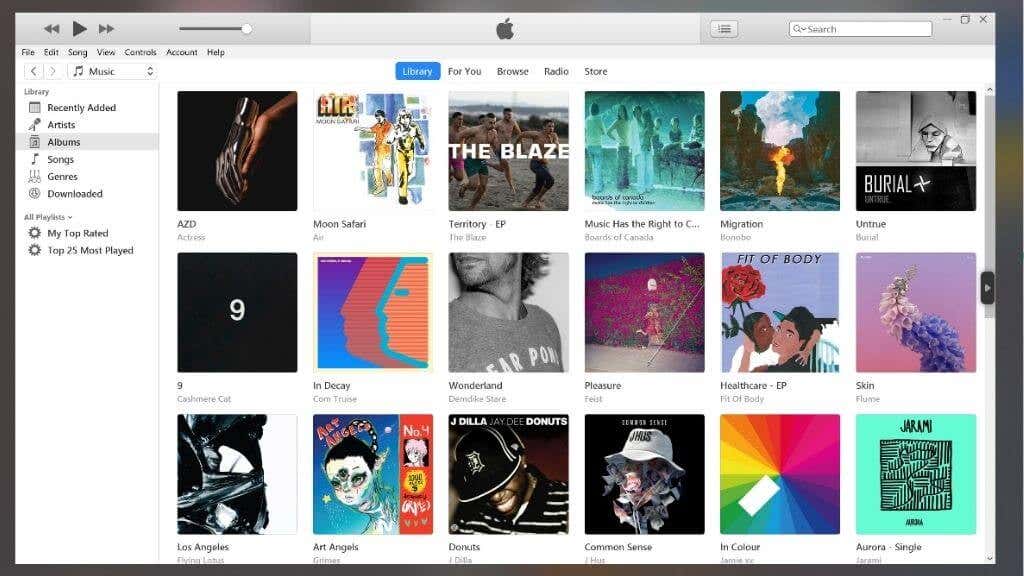 If you have a significant collection of music that you've bought from Apple over the years, creating your audio CDs is the highest-quality way to play that music on CD player systems. It's so easy to create a playlist and click "Burn Playlist to Disc" with iTunes. Even better, you can easily print a tracklist for the CD, so you don't have to wonder what music is on the disc you're looking at.
Express Burn (Windows Store)
Express Burn is an NCH Software product, which is a name you may remember for the wrong reasons. Around 2013 the company picked up some flak for bundling the Google Toolbar (a PuP), but by 2015 the bloatware was gone, and today their software has a clean bill of health.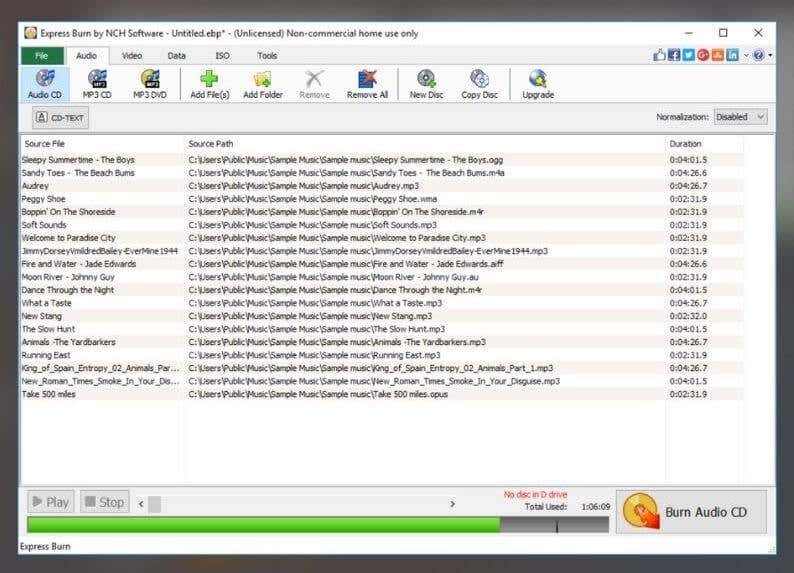 The free version of the software does have one major limitation: it's limited to burning CDs. If you want to burn DVDs, you'll have to pay for the full version of the app. If you have a Mac as well, Express Burn is available for those systems.
Burn Baby, Burn!
The days of 500-disc sleeve folders filled with CD-Rs might be long behind us, but it's good to know if you still need to burn CDs, DVD discs, audio discs, or any other optical media (except HD DVDs!), it's still possible without spending any money.
That is, apart from a USB disc burner drive and disc spindles, it still seems like it will be a long time before you can't find these on places like Amazon anymore. After all, Sony only stopped making 1.44MB floppy discs in 2010!