Inkscape, a free and open-source vector graphics editor, has released a new version which its developers say is the 'biggest bug fix' update they've ever shared!
Alongside 40 bug fixes there are over 30 crash/freeze fixes included in Inkscape 1.3.1, with remedies to address workflow-wrecking behaviour during PDF import, or while using the the Live Path effect.
Other changes in Inkscape 1.3.1:
Shape Builder tool now creates an appropriate number of nodes
Activating a layer in the Layers dialog no longer requires a double-click
Improved behaviour when deleting/moving layers
No more auto-expanding layers in the Layers dialog during activation
Page tool size field can once again be edited
Better handle visibility with dark desk colours
Improvements when converting text objects to path
Gradient dithering is now available on macOS and Linux
Translation updates
Two nifty new features have also been added:
Disable snapping to grid lines but still snap to grid intersections
Split text into its letters, while retaining the kerning
In all, a decent uplift to this design essential.
For an avalanche more detail on every bug fixes and feature buff this update offers I highly recommend reading the Inkscape 1.3.1 release notes as it documents (seemingly) every change.
Get Inkscape 1.3.1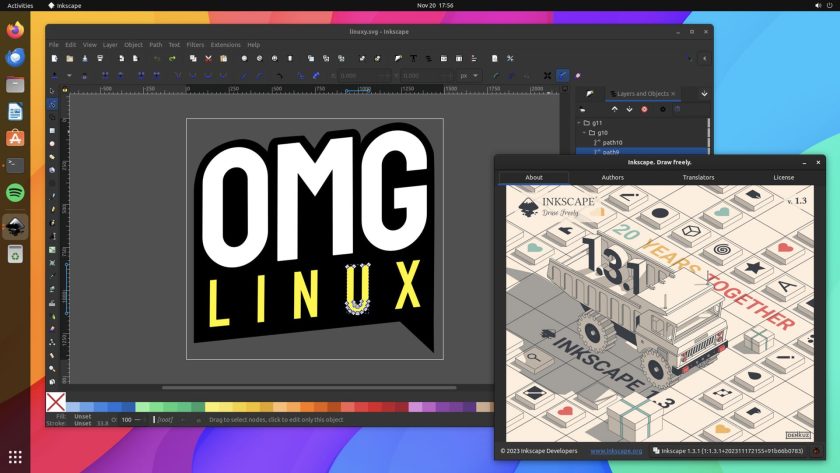 You can download Inkscape 1.3.1 from the Inkscape website for Windows, macOS and Linux (the Linux package is provided as an AppImage).
The official Inkscape PPA provides the latest release for Ubuntu 20.04 LTS and above. You can use this PPA with Linux Mint, Zorin OS, and any other Ubuntu-based Linux distribution based on Ubuntu 20.04 or later.
Run sudo add-apt-repository ppa:inkscape.dev/stable in a new terminal window to add the Inkscape PPA to your system sources, then install Inkscape using your preferred method.
Alternatively, you can install Inkscape from Flathub.