The Windows operating system is built on a collection of hundreds of different system processes, each having a specific purpose. For instance, some parts of the Windows interface are generated by dwm.exe, while ntoskrnl.exe is the kernel process that links hardware and software together.
One of the most important processes, however, is the Windows Shell Infrastructure Host process. While essential, this process can also be behind some system stability issues, such as high CPU usage. Here's what you need to know about this process and how to resolve any issues with it.
What Is the Shell Infrastructure Host Process and Is It Safe?
While some system processes (like yourphone.exe) aren't hugely important in ensuring Windows can run properly, the Windows Shell Infrastructure Host process isn't one of them. This process plays an essential role in generating several parts of the Windows user interface for users to see and interact with.
These include the Start menu, certain visual effects (such as transparent windows), notifications area pop-ups, desktop background slideshows, and more. As Windows relies on its graphical user interface for users to navigate and operate it, few processes are as essential for a working system as this one.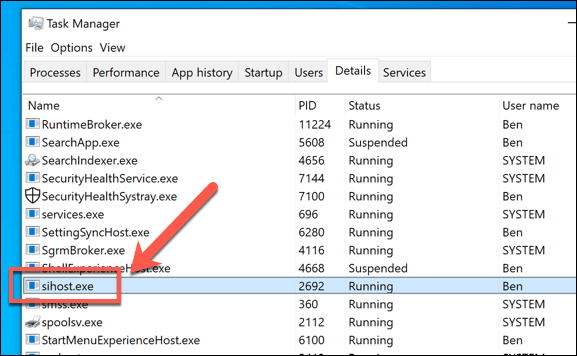 If you're looking at Task Manager, you might spot this process with slightly different names, including the executable file name (sihost.exe). In the end, they're all the same thing—or should be. While malware is known to hide itself as certain Windows components like sihost.exe, this is pretty unlikely for this particular process.
With that in mind, you can rest assured that the Shell Infrastructure Host process is entirely safe to run. If you want to be completely sure, however, you can follow the steps below to check that the process is genuine.
What Causes sihost.exe High CPU, RAM, or Other High System Resource Usage?
While the Shell Infrastructure Host process is a genuine system process, it isn't without its problems. In the early days of Windows 10, users reported issues with sihost.exe causing high CPU and RAM usage. Updates and bug fixes have helped resolve this for many, but it could still be an issue.
Most of the time, sihost.exe shouldn't be using much (if any) system resources. The exception to this is when your graphical interface changes in some way. For instance, when you open new windows, change backgrounds, and generally interact with your UI, the sihost.exe will spike with some usage, but it should remain limited.
Troubleshooting sihost.exe High CPU and RAM Issues
However, if the CPU and RAM usage is unusually high (and maintains high levels of usage), it could point to a stability issue with your PC. While malware could be the cause, it's more likely that your system is out-of-date. Microsoft regularly issues new bug fixes for Windows to help stability issues like this.
To check for updates, right-click the Start menu and select the Settings option.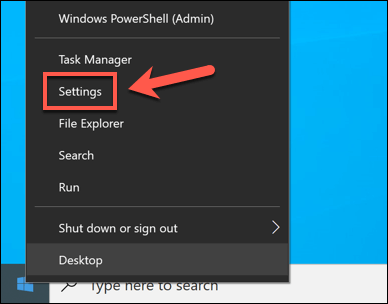 In the Settings menu, select the Update & Security > Windows Update options. Select Check for Updates (if the option is available) to search for new Windows updates to install.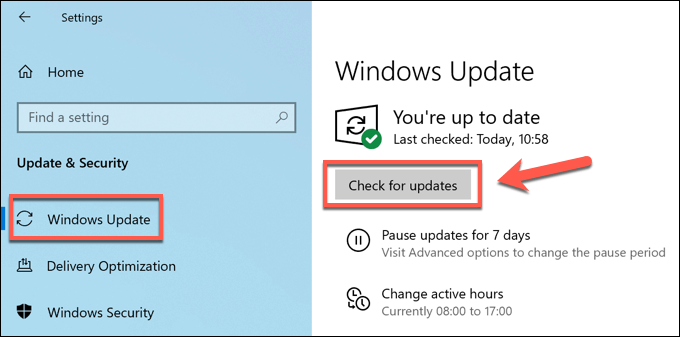 If there are available updates, install them and restart your PC to see if it has any impact on your system performance. If updates haven't resolved the issue, you may need to look at checking your PC for corrupt system files which could affect your system performance.
To do this, right-click the Start menu and select the Windows PowerShell (Admin) option.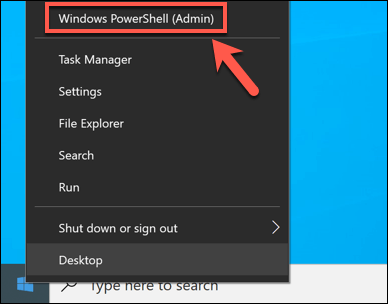 In the PowerShell window, type sfc /scannow to use the System File Checker tool. This will compare your system files and, if there are corrupt or missing files, SFC will repair them.

The SFC tool will take some time to complete. If it can't repair your system, you may need to look at alternatives to resolving this issue, such as resetting Windows 10 to factory settings.
Checking Whether the sihost.exe Process Is Genuine
It is reported that some types of viruses and malware try to disguise themselves as legitimate system processes. As the security of Windows improves, this is becoming less and less likely, but it isn't impossible.
While the Shell Infrastructure Host process is unlikely to be malware in disguise, you can check for your own peace of mind using the Task Manager.
To launch the Task Manager, right-click the task bar and select the Task Manager option.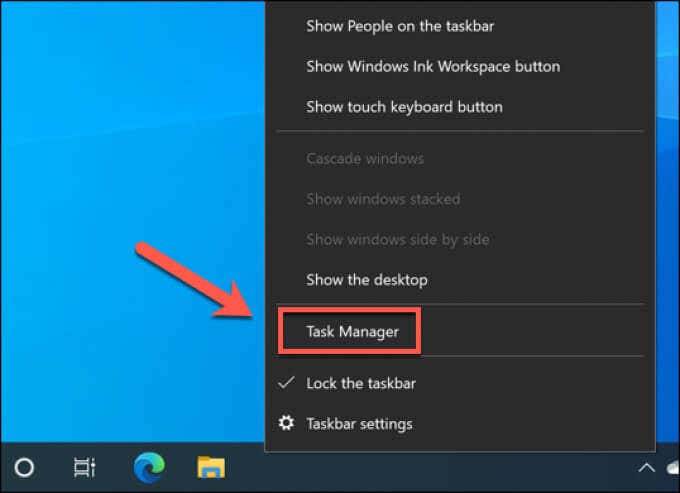 In the Task Manager window, search for the Shell Infrastructure Host process in the Processes tab. Alternatively, search for sihost.exe in the Details tab. Once you've located the process, right-click it, then select the Open file location option.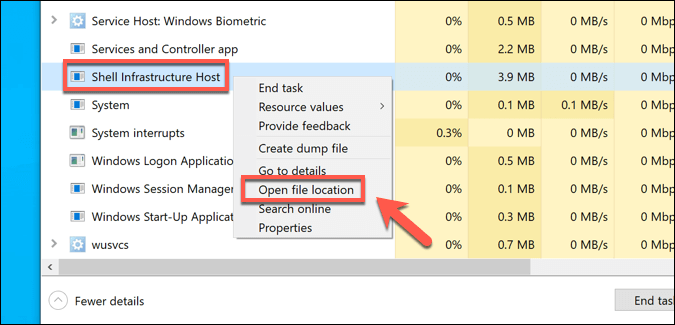 Like other major system processes, the genuine Shell Infrastructure Host file (sihost.exe) is located in the C:WindowsSystem32 directory. If Task Manager opens to another location, you can be certain that the file running on your PC isn't genuine.
If that's the case, you'll need to stop using your PC and immediately scan for malware to make your PC safe to use.
Can the Shell Infrastructure Host Process Be Disabled?
As a major system process, the Shell Infrastructure Host process isn't something that you can disable or remove from a Windows 10 installation. Attempting to stop sihost.exe will cause your PC to freeze, cause a blue screen of death, or randomly restart.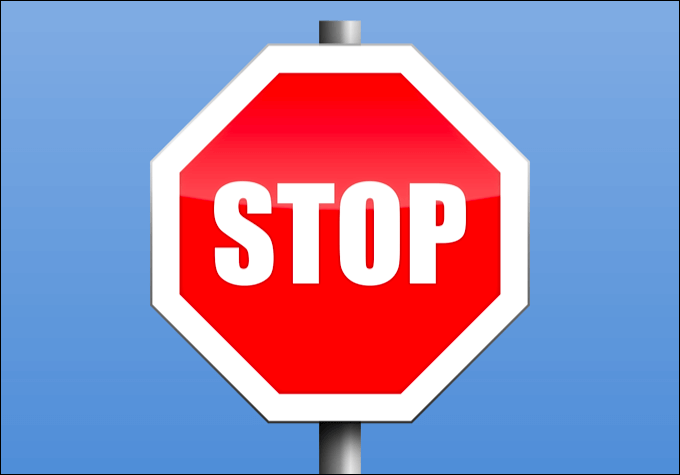 This process is required for Windows to run effectively, so you can't switch it off or remove it. You can, however, clear some system memory to help free up vital resources for this process and other system processes. 
There are several ways you can do this, including clearing the Windows memory cache and reducing the number of active programs running on your PC at any one time.
Further Troubleshooting For sihost.exe Issues
If the Windows Shell Infrastructure Host process is still causing problems, you'll need to troubleshoot it further. Windows will reserve some system resource usage, but if it's using a lot of CPU or RAM, it points to wider issues with your system performance.
One way to ensure that your system is healthy is to start again by wiping and reinstalling Windows. You should then keep up with regular system maintenance, including keeping Windows updated and removing any malware. Of course, you may need to consider upgrading your PC if your PC is becoming too slow to use.